Icelandair wins Best Website Design award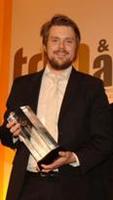 Icelandair (icelandair.co.uk) has claimed a top spot in the annual Technology for Marketing (TFM) Awards, held in London on 6th February. The airline, which operates flights between 23 gateways in the UK, Europe, the USA and Canada*, was voted Best Website Design of the Year by the panel of six industry experts, and beat companies including Odeon and Orange to first place.
Over the past two years, Icelandair has redesigned and relaunched its global and local websites in order to better fulfill the needs of its customers. The airline reports an increase in online spend per visitor of 38.7% in the past year.
Stephen Brown, General Manager Icelandair UK & Ireland says: "Our new-look site is easy to use and provides our customers with all they need to research, plan and book their trip. This award demonstrates our commitment to providing a full service to our customers, and is a success we wish to build on with more innovations and developments in the near future."
In 2006, Icelandair was voted Marketing Company of the Year in the Icelandic Marketing Awards and the website was voted Best Company Website in Iceland.
*Icelandair offers up to 21 flights each week from London Heathrow, Glasgow and Manchester to Iceland, with easy connections from Heathrow and Glasgow to six gateways in the USA and Canada: New York, Boston, Baltimore-Washington, Orlando Sanford, Minneapolis-St Paul and Halifax.
In 2006, Icelandair carried over 1.5 million passengers.