Icelandair now offers passengers the chance to float away on their journey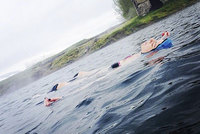 Icelandair has added a new stop over experience to its website for passengers a "Floating Tour" experience. Passengers can now float in the Secret Lagoon while listening to relaxing music by Icelandic group Sigur Ros (who composed soundtrack to BBC's Planet Earth) via underwater loudspeakers under an Icelandic starry sky and with a little luck, the Aurora Borealis (Northern Lights) will dance for them too.
This excursion is globally the first of its kind and so a once in a life time experience. Participants will float in the Secret Lagoon, which is a natural hot spring, located in the small village of Fludir. It is the oldest natural swimming pool in Iceland dating from 1891 and was used to teach the locals to swim until 1947. It has now been fully renovated. The water in the pool holds a constant temperature of 38-40 Celsius (100-104 Fahrenheit) all year, with wonderful natural surroundings and steam rising into the air creates an unbelievable magical feeling.
Icelandair already offers all trans-Atlantic passengers the opportunity to enhance their journey with a stopover in Reykjavik for up to a week for no additional cost on their flight ticket (in fact on an outbound UK flight a passenger actually saves money on APD tax!).
Andrés Jónsson, General Manager of Icelandair in UK said "This new tour is great news for UK passengers as it enables them to break up their journey across the Atlantic in a relaxing way or for those solely visiting Iceland enhances their holiday with a unique experience. We are continuing to grow our route network in 2015 with more frequencies to several destinations including starting flights from Birmingham airport in February and to new destination Portland in May 2015 so more passengers will now have the chance to fly and float with us. "
At the swimming pool participants are provided with a floating cap and support for their legs, so they can float in the warm water and relax with the night sky above. Floating is well known for relieving stress and improving well-being. Muscle tension, blood pressure and heart rate all drop as people fall into deep relaxation. It is known to aid detoxification and help with pain relief, anxiety and insomnia; helping people to gain clarity, focus and physical renewal. Experts say one hour of floating equals 4 hours of deep healing sleep.
Adding to the ambiance of the floating experience, participants listen to relaxing Icelandic music by Sigur Ros (of BBC Planet Earth fame) on the underwater loudspeakers. On the perfect night the Aurora Borealis may also dance. The Northern Lights are of course natural phenomena and dependant on weather conditions at the time.
The tour includes transfers to the lagoon with an English speaking guide, entrance to Secret Lagoon, a floating cap and support for legs. The 6 hour tour picks up at 19:30 and begins at 20:00 every day until 15th April 2015 with a special introductory fee of £113 for 2014 rising to £142 from January 2015. Tickets can be booked through Icelandair's website as an "add on" to your flight.
For more information, visit icelandair.co.uk.