Icelandair launches new flights to northern Iceland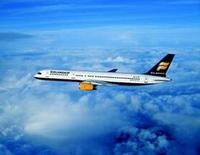 This summer, Icelandair introduces new flights allowing easy connections from London Heathrow or Glasgow to northern Iceland, with no need to change airports in Iceland.
In summer 2007, Icelandair (icelandair.co.uk) will operate three weekly flights from Keflavik International Airport (KEF) in Iceland, to Akureyri (AEY), north Iceland, offering UK travellers easy connections to and from London Heathrow and Glasgow. The flights will operate from 15th June until 31st August 2007, and are available in travel agent CRSs as through flights with Icelandair (FI) flight numbers. Return fares starting from £213 including taxes.
Stephen Brown, Icelandair General Manager UK & Ireland, says: "The new flights allow passengers from Heathrow and Glasgow to transit at Keflavik, then fly on to Akureyri without the need to collect baggage or transfer to the domestic airport in Reykjavik. This demonstrates the airline's commitment to a continued improvement of customer experience, and is a fitting move as Icelandair celebrates seventy years of aviation this year."
The service using 38-seater dash 8 aircraft provided by domestic carrier Air Iceland, will operate on Mondays, Thursdays and Fridays with early evening flights from Keflavik to Akureyri (flight FI7544), and morning flights from Akureyri to Keflavik (flight FI7443). Baggage reclaim, immigration and customs will take place at Akureyri.
Akureyri is the second city of Iceland and is referred to as the 'capital of the north'. The summer months are ideal for those seeking the Midnight Sun close to the Arctic Circle as the area enjoys 24-hour daylight. Activities include whale watching, hiking, mountain biking and exploring the rugged volcanic landscape and geothermal sites by road.