Icelandair introduces one way fares from the UK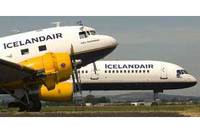 To mark its seventieth anniversary, Icelandair has introduced one-way fares to Iceland from its three UK gateways. The airline offers up to 21 departures each week to Iceland from London Heathrow, Glasgow and Manchester, with one-way fares on sale now from £70* including taxes.
Helgi Mar Bjorgvinsson, Icelandair General Manager UK & Ireland, said:
"By introducing value for money one-way fares Icelandair offers UK travellers greater flexibility. This is part of a service improvement programme which includes a cabin refit, an improved in-flight entertainment system, new destinations and online developments to make booking and travel easier. A simplified global fare structure provides our wide customer base, including both leisure and business travellers, with greater flexibility and easier access to good value fares."
Passengers may now benefit from a more flexible fare structure that, in addition to one-way fares, allows travel in different classes: for example, outbound in Economy Class and return in Saga Class, the airline's business class service.
Icelandair is investing £13.2 million in upgrading the cabins of its Boeing 757 aircraft by spring 2008. New seats, with an enhanced in-flight entertainment system, will be fitted to all aircraft operating scheduled flights.
A seasonal service to Halifax, Nova Scotia, was introduced in May 2007 and the airline plans to introduce a range of services including online check-in to coincide with the cabin refurbishments.
For more information, visit Icelandair.co.uk.
*One way fare of £70 including taxes available from Heathrow to Iceland; one-way fares from Glasgow and Manchester from £90 including taxes. Fares are subject to availability. Terms and conditions apply, see website for full details.