Food and Fun Festival – A smorgasbord of delights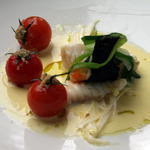 The most juicy Food & Fun festival ever is taking place in Reykjavík, Iceland from February 20th to the 25th. A star studded roundup of chefs from around the globe will prepare mouth-watering delicacies from fresh, local ingredients at fifteen of the best restaurants in the city.
The name really says it all - Food and Fun is an event, which combines outstanding culinary skills, fresh natural ingredients, outdoor adventures and the world-famous Reykjavik nightlife to create the ultimate recipe for fun.
This year a special focus will be on the New Nordic Cuisine. Scandinavia's cool climate along with the surrounding sea and the seasonal changes make Nordic ingredients both unique and exotic. The New Nordic Manifesto's aim is to express the purity, freshness, simplicity and ethics associated with the region. So prepare for the best lamb, fish, cheese and berries you have ever tasted.
The core element of the festival involves world acclaimed Michelin Star awarded chefs who collaborate with Reykjavik's best restaurants. Each chef is assigned to one of the participating restaurants, where they prepare a special menu from Icelandic ingredients. The menu is presented at all the restaurants for an entire week. In addition, the chefs themselves are on site for three nights during the festival week.
The second element is the chef competition, which takes place on the last day of the festival and is open to the public. The chefs compete by making three courses, made out of Icelandic ingredients only. The competition is unique because the chefs all possess exceptional culinary skills, but most have not worked with Icelandic ingredients before.
Prior to the competition, they are given 30 minutes to quickly shop at the nearby supermarket with only one order: Icelandic ingredients only! Then they are given three hours to apply their magic. On the menu? One fish course, one meat course and a dessert.
The festivities will kick off at all restaurants on Wednesday evening February 20th and culminate in the Food and Fun chef competition on Saturday February 24th, at the Reykjavik Art Gallery. All fifteen restaurants serve the four course Food and Fun menu throughout Sunday night.
Now in its seventh year, the festival looks like the best and biggest Food and Fun ever, so don't wait another minute for picking your favourite chefs and restaurants. A smorgasbord of delights awaits you in Reykjavík.
For all information about the festival visit: Foodandfun.is
To book your flights, log on to Icelandair.co.uk.