Aer Lingus introduces new route to Vilnius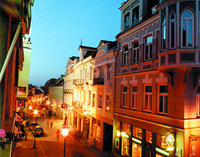 This month Aer Lingus announced new routes from Gatwick, its first hub outside Ireland. One of these is to Vilnius.

"The Aer Lingus decision to launch direct flights to Vilnius is great news. This year is very special for Vilnius and Lithuania. We celebrate the Millennium anniversary of the first mention of Lithuania's name in a historical source and Vilnius is the European Capital of Culture. The new convenient and competitively priced flights will definitely help to attract more tourists from the UK." – states Augusta Jaudegyte, the Director of Lithuanian National Tourism Office in the UK.

Direct flights to Vilnius will commence on 10th September, 3 times a week (Tuesday, Thursday and Saturday). Daily flights start on 24th October. Aer Lingus already operates flights from Dublin to Vilnius 3 times a week (Tuesday, Thursday and Saturday).

Aer Lingus Corporate Affairs Director, Enda Corneille, says: "Aer Lingus' European destinations from Gatwick are proving to be a huge hit with our customers. Since our launch here back in April, we have sold over 400,000 flights.

"Vilnius may only be European City of Culture in 2010, but the new National Art Gallery amongst many other attractions will remain for ever, and an extra incentive to come during the winter, when prices are lower and the town returns to the local people" says Neil Taylor co-author Bradt Guide to Vilnius.

Tickets to Vilnius are on sale from 9th June, and will be available for travel from the 10th September. For more information on fares and schedules log on to aerlingus.com.