Quality camping assured in Denmark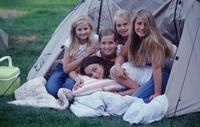 Denmark has almost 500 camp sites scattered across the length and breadth of the country, some just a few metres away from the beach. To experience the range of camp sites available VisitDenmark is arranging a number of press trips for families and couples.

With most sites costing between £4-£8 per person per night, a camping holiday in Denmark offers great value for money. Each campsite is given a star rating, from fairly basic one star camp sites up to five star sites, which offer a wide range of sports and recreational facilities. To make it easier for potential campers to choose their perfect holiday, this year the Danish Camping Board, which approves and monitors all the campsites, has introduced a new 'Quality Assessment' scheme to compare the facilities offered by each camp, within each star rating.

For the quality assessment each camp has been judged on its buildings, grounds and facilities, plus the quality of its maintenance and cleaning. Visit Danishcampsites.dk and look out for a red, green, blue and white circular pie chart next to each camp site.

The star ratings for each camp site are a general guide to the facilities available. There are 47 one star camp sites, with Thorager Camping (Thorager.dk) in West Jutland, being a good example.

In the two star range there are 100 camps across Denmark. Rosenvold Strand Camping (Rosenvoldcamping.dk) in South East Denmark is a particularly good example.

The majority of camp sites in Denmark fall into the three star category, with 326 in total, and might be more suitable for people with younger children as they will have baby changing rooms, washing machines plus playgrounds and activities for children. Ajstrup Strand Camping (Ajstrupcamping.dk) is one of the best.

In the four and five star bracket even better quality facilities are on offer, with an on site shop and possibly larger pitch areas, as well as facilities for disabled travellers. Take a look at Oster Hurup Camping (osterhurup.dk).

Or for five star camping there is a choice of six sites in Denmark. Klim Strand (klimstrand.dk) which is located on the North West coast of Jutland, is one of the best, with 600 pitches and over 40 cabins along a beautiful beach. In addition to a huge range of sports facilities, this summer it has opened a new indoor water park and wellness centre with spa treatments using beer and wine.

In order to stay on a site, a 'Camping Card Scandinavia' is required. It costs £8.20 for the year and can be purchased online.

Getting there…?

For DFDS Seaways ferry passengers travelling with their caravans, free passage from Harwich to Esbjerg is offered, subject to availability, on Sundays and from Esbjerg to Harwich on Thursday, with a 'Camping Card Scandinavia'. Visit Dfds.co.uk for further details. Prices start from only £29 per person one way.

By air the journey time is approximately two hours with SAS having direct daily flights from London Heathrow, London City Airport, Birmingham, Manchester or Aberdeen to Copenhagen. Visit Flysas.co.uk

Alternatively Sterling has daily flights from Gatwick to Aalborg or Billund in Jutland and to Copenhagen. Visit Sterling.dk for more details.

On arrival Europcar offers car hire rates from £145 per week. To book visit Europcar.co.uk.

For more information on all of the camp sites in Denmark go to Danishcampsites.dk.

For more information on Denmark go to Visitdenmark.com.