Your own private island wedding in Greece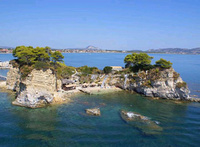 Many couples dream of having a beach wedding abroad, only to discover that because most beaches cannot be hired privately, the reality means sharing your wedding with topless sunbathers and noisy jet skis. Ionian Weddings, the London based Greek wedding specialists, have a unique solution to this problem: exclusive hire of a small island for your wedding ceremony!

This might sound like an expensive option but wedding couples are amazed to discover it costs from only €1800 (approximately £1,475) and includes hire fees, including ceremony, photographer & photos, flowers, champagne and wedding cake.

Cameo Island is set just off the coast of Zante in Greece which is well served by hundreds of weekly direct flights from airports all over the UK in the summer, making it easy for friends and family to join the couple for their wedding day. The island of Zakynthos is also the home of the loggerhead sea turtle Caretta Caretta and famous for one of the most photographed beaches in the Mediterranean – the Shipwreck or Navagio.

A popular option is to have the ceremony on Cameo Island, then hop over to the main island for a reception at a traditional Greek taverna complete with Greek music and dancing. The cost, including all the above for the ceremony and a 3-course meal with wine and entertainment is only €3,800 (approx £3,115) for 20 guests. Alternatively, you may choose to extend your stay on the island and have your reception at the stunning terrace upstairs with 180 degree views of the bay, Kalamaki beach and the sunset in the Ionian Sea!

Ionian Weddings offers many other unique wedding ideas on other Greek islands such as a chapel wedding on a private island followed by private beach barbecue in Kos, a beach wedding inside a cave and boat reception in Lefkada, a beach wedding at the heart of the volcano in Santorini or an ancient temple style venue in Crete.

The Greek islands are becoming an increasingly popular destination for UK couples marrying abroad as the cost UK weddings is becoming more and more prohibitive for many couples. Greece is easy to get to from the UK, benefits from simpler legal wedding paperwork than other European countries and English is widely spoken.

For further details visit ionianweddings.co.uk.