Midnight golf in Iceland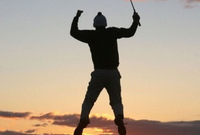 Due to Iceland's northerly location, the country experiences 24 hours of sunlight every day over the summer months of June and July. This means that committed golfers are able to go out and play golf whenever they feel during the day or night!

Midnight golf in Iceland is a bit of a 'box to tick' if you're a golfer so countless players from around the world flock to experience it. As you can imagine the golf courses, landscape and atmosphere is a totally surreal experience at midnight....

Midnight golf in Iceland can be enjoyed both on eighteen hole golf courses and nine hole golf courses. Akureyri Golf Club hosts The Arctic Open Golf Championship each year which is an international event attracting golfers from various parts of the world with the highest number of international players being 120 to date. This tournament takes place in late June every year, 26th – 28th June this year. The first tournament was held in 1986.

Book your zany golf experience through iceland2go.com. It costs from £899pp for four nights from Thursday 25th – Monday 29th June. This includes flights with Icelandair, transfers, 4 nights b&b accommodation in Hotel Kea, Akureyri.

For more information and bookings, visit Iceland2go.com.