Cruising is booming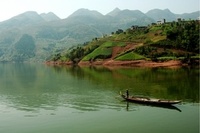 River cruising is booming this year, according to cruise news and reviews site, CruiseCritic.co.uk. With the pound struggling against the Euro, cost-conscious British holidaymakers have discovered that river cruising holidays offer great solutions for multi-city sightseeing trips in the Euro zone on rivers such as the Rhine and the Danube. Further afield, more adventurous expeditions along rivers such as the Nile or Yangtze are also proving popular.

"With the current economy, travelling around Europe - or most places for that matter - just isn't cheap anymore. All those little expenses really add up," explains Carolyn Spencer Brown, editor in chief of CruiseCritic.co.uk.

"With river cruising, most costs are paid up front, in pounds, so it's easier to budget. It's also more relaxing; touring by boat means you literally take your hotel with you. There's no need to pack up every day or check-in at five different hotels in as many languages - you just go to bed at night and wake up with a new view and a new town to explore the next day."

CRUISE CRITIC'S TOP 10 RIVERS FOR CRUISING 2009

• Danube - A great choice for first-timers. Travel from Germany to the Black Sea, visiting Austria, Hungary, Croatia, Serbia, Romania and Bulgaria. Example price for seven nights Vienna to Bratislava and Budapest and return, £825pp. Cruise lines which operate on the Danube include Peter Deilmann Cruises, Viking River Cruises and Uniworld.

• Duoro - The River Douro travels from Spain through rural scenery of northern Portugal to the city of Porto, visiting restored palaces, places of pilgrimage, cultural centres and vineyards. Example price five nights Porto to Vega de Teron return, £545pp. Uniworld and CroisiEurope are among the cruise lines which operate on the River Duoro.

• Yangtze - A cruise on this great river combines the opportunity to see some spectacular scenery, including the Three Gorges; experience modern China; and visit some of the country's great historic landmarks, such as the Great Wall, Forbidden Palace and Terracotta Army. Example price for nine nights Beijing to River Li, £1299pp*. Viking River Cruises and Avalon Waterways are some of the operators which sail the Yangtze.

• Rhine - The Rhine offers a huge choice of cruises as it flows from the Alps into the North Sea, through Switzerland, Germany, France and Holland. It also links up with cruises on the Moselle and Danube rivers. A favourite for Christmas market cruises. Example prices 14-night Treasures of the Rhine, £212pp*. Many cruise lines - including Swan Hellenic River Cruises and Peter Deilmann River Cruises - offer Rhine cruises.

• Rhone - River Rhone cruises travel through Provence and the south of France, taking in an area renowned for its fine wines and culinary delights. Example price four nights cruise through Rhone and Carmarque, £444pp. Options for Rhone trips include Swan Hellenic River Cruises and French Country Waterways.

• Nile - Visit the sights of ancient Egypt: the Pyramids and Sphinx, Valley of the Kings and Temples of Ramses. Also experience some of the African wildlife. Example price seven-night cruise between Luxor and Aswan, £579pp*. Nile cruise operators include Discover Egypt and Blue Water Holidays.

• Murray - Cruise through Australia's outback, and see million-year-old gorges, golden sandstone cliffs towering over blue-green lagoons and majestic, red-gum forests under endless blue skies. Example price four-night Outback Heritage Cruise, £754pp. Other cruise operators include Blue Water Holidays and Captain Cook Cruises.

• Volga - Travel the waterways of the Tsars, the scenic rivers, canals and lakes that connect Russia's two old imperial capitals, Moscow and St. Petersburg. Example price 12 nights between St. Petersburg and Moscow, £2235pp*. Cruise lines operating cruises along the Volga include All Russia Cruises and Uniworld.

• Mekong River - An exotic cruise through Vietnam, Cambodia and Thailand takes in some of South East Asia's ancient cities, temples and natural wonders. Example price Angkor Wat and the Mekong - a 13-night holiday, including a 7-night Mekong River cruise, £1975*. Cruise lines in this region include Pandaw River Cruises.

• St. Lawrence Seaway - Flowing from the Great Lakes that border the U.S. and Canada, the St. Lawrence River and Ottawa River pass through incredible scenery and take in two of Canada's most fascinating cities - Montreal and Ottawa. Example price 11-day St Lawrence River and Thousand Islands Cruise, £2435pp*. Options include cruises from Titan HiTours (via St. Lawrence Cruise Lines).

* Includes UK return flight

More on river cruising, including what to expect, trip reviews, popular itineraries and travel deals, can be found at Cruisecritic.co.uk.