Enable Holidays expands programme for disabled travellers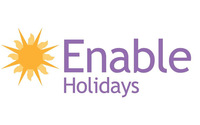 Enable Holidays, the specialist tour operator for people with limited mobility, their families and friends, has introduced an exciting new collection of accommodation to its portfolio ranging from budget conscious apartments through to top of the range hotels featuring the latest facilities and excellent adaptations for the disabled guest.

In addition, the tour operator is also broadening its clientele by also catering for the elderly market who struggle to find suitable holidays. Enable Holidays has also unveiled its new look website, now live at enableholidays.com.

Following a series of audits at hotels and apartments in Costa Dorada, La Manga, Majorca, The Canaries, Cyprus and Portugal plus new city break hotels in Spain and Holland, Enable Holidays has introduced a further 30 properties, expanding its selection to almost 200.

Managing Director, Lynne Kirby, commented, "This is an exciting development for Enable Holidays as we expand our programme. Choosing a resort is one thing, but finding suitable accommodation requires in-depth experience, great patience and thorough inspection and we are delighted to have secured additional properties therefore offering our clients a wider choice. We are also widening our clientele by offering relaxing holidays for the elderly market – for those who find it difficult to get out unaccompanied or who are slow walkers."

The company's stringent 150-point auditing process not only covers wheelchair manoeuvrability around the hotel or villa but also includes everything from door widths and bed heights to details about floor surfaces, the number of steps and the availability of special equipment. Adapted rooms are guaranteed upon confirmation of a booking and adapted bathrooms and wheel-in showers are featured in many properties.

To identify the most suitable holidays for customers, each property is graded by a qualified Enable auditor according to its accessibility – these being either E1 (reasonably good level access – suitable for slow walkers and older people), E2 (good access and manoeuvrability – suitable for wheelchair-users who do not require full adaptations) or E3 (very accessible with adapted bathrooms, especially selected for disabled people).

Enable also works very closely with airlines and informs them of individual requirements and preferences prior to departure as well as offering in-resort facilities including special excursions and a hire service for wheelchairs.