Mix modern with traditional in Denmark this Christmas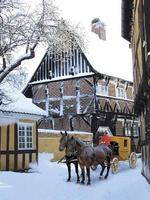 Aarhus, the second largest city in Denmark and the capital of Jutland can really provide the sense of the old-fashioned Christmas that so many of us are longing to rediscover. Flight times to Denmark are less than two hours, making it ideal for a pre-Christmas weekend away. The city centre is very easy to explore on foot and it offers some of the best shopping experiences in Denmark.

Put this date in your diary: 30 November! This is when Christmas in Aarhus really kicks off with a Christmas Parade led by none other than Father Christmas himself. The people of Aarhus, young and old, come out to greet him and to see the stylish Christmas lights being switched on.

Christmas has now truly started – and the shops stay open until midnight to cope with eager shoppers with Christmas present lists in hand. In the fashionable 'Latin Quarter' you find a maze of individual shops selling jewellery, art, a wide range of interior design items and traditional as well as avant-garde fashion. Aarhus also boasts two major department stores, Salling and Magasn, in case you want it all under one roof.

If you cannot wait that long, you can still experience and old-fashioned Danish Christmas at Gamle By, the Old town. Gamle By, one of the most popular attractions in Denmark starts its exhibition 'Danish Christmas through 300 Years' already on the 17th November. Gamble By also offers its own Christmas market at weekends leading up to Christmas and the New Year.

Gamble By open-air museum consists of some 75 traditional buildings from all over Denmark. Here you can really see and feel how the Danes from different walks of life, lived their lives in by-gone days. You can explore reconstructed living rooms, kitchens, workshops, a post office, a school and much more. It is all in a genuine setting and knowledgeable staff dressed in costumes of the time, are at hand to answer any questions that you may have. It is a genuinely memorable experience for all ages – and the best place to pick up some traditional quality Christmas presents.

How can I get there?

It's easy. Ryanair is offering low fares from Stansted directly to Aarhus Airport twice a day. The airline also offers direct flights Dublin-Billund in the heart of Jutland, from where there is a coach connection to Aarhus.

Ryanair is introducing a direct flight Stansted - Billund on 29 October 2007. This confirms the growing popularity of West Denmark as a holiday destination. Visit Ryanair.com for more details.

Sterling Airlines are offering a connection from Gatwick to Billund in the heart of Jutland, with a coach transfer to Aarhus after each flight. Sterling.dk

Wishing to take get together with friends or family and take your own car? DFDS Seaways offer direct sailings throughout the year from Harwich to Esbjerg. Visit Dfds.co.uk for more details.

For more information on Aarhus, take a look at Visitaarhus.com.

For more on Denmark including hotel booking: Visitdenmark.com.