Lunch in Sweden – Dinner in Denmark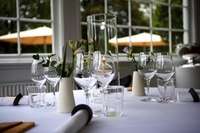 Copenhagen and the neighbouring region of Skane in south Sweden could be one of Europe's best culinary secrets. It is said that the reason the food tastes so good in the Oresund region is due to its geographical position. It is far enough south to be able to grow most crops, but it is also northern enough for their growth to be slower, allowing the flavours to develop and mature.

Copenhagen has become a major gourmet destination in recent years with a wide range of inventive, modern and stylish new restaurants. Combine that with a 30-minute train ride across the Oresund Bridge and you have reached Sweden's third largest town, Malmo and the Skane region, known for its fine food, top chefs and the best home grown ingredients.

Here is just a taste of what is on offer:

Great food has been served in one form or the other from the Kockska Huset in Malmo's historic main square, Stora Torg. Today it houses the city's best known restaurant Arstiderna (The Four Seasons). Located under the cellar vaults, this restaurant serves Skane specialities like goose and eel and traditional festive meals of the season. It also houses one of the nation's best stocked wine cellars. Arstiderna.se

As a contrast, head for the waterfront and the new trendy area of Vastra Hamnen (western harbour) and the organic 'slow food' eatery Salt och Brygga. It is located near the Turning Torso tower and apart from serving contemporary Scanian food it offers great views of the Oresund Bridge. Saltobrygga.se

The hottest name on the Swedish gourmet scene right now is the young chef Niklas Ekstedt. Having worked with chefs like Ferran Adrai at El Bulli, Barcelona and for top restaurants in USA, his food is equally inspired by his Swedish grandmother. His restaurant Niklas is in the coastal town of Helsingborg, north of Malmo. The food at Restaurang Niklas is innovative and French-inspired and not infrequently with a touch of humour. Ekstedt prefers to cook the foods he finds inspiring and enjoyable, rather than what is trendy, though he certainly does use some of the most modern techniques, such as 'foam'. Niklas.se

When in Skane, it is also worth discovering the traditional inns, some dating back hundreds of years. This is where you find the Swedish speciality the Smorgas-bord. In this area, eat it with the dark local bread Kavring, and maybe end the meal with a bite of Spettkaka, a giant meringue type cake baked on a skewer.

The journey back to Denmark can be a pleasant 20-minute ferry across from Helsingborg to Elsinore. Denmark is known the world over for its production of the three B's: Beer, Bacon and Butter, which of course is still important, but there is so much more to Danish food.

Copenhagen is described as the Gastronomic Capital of Scandinavia and today it has no less than 11 Michelin star-studded restaurants to prove it.

The latest additions this year are Geranium, Kiin Kiin and Paustian.

Biodynamics, the organic and animal welfare are important factors in the kitchen of Restaurant Geranium. The meat, vegetables and dairy products are treated with respect and care all the way from producer to the table. At Geranium only the best Danish products are used. With your meal you are mainly offered the choice of organic or biodynamic wines. Restaurantgeranium.dk

At Restaurant Kiin Kiin on Sankt Hans Torv (Square) in the district of Nørrebro, you are served Thai food at gourmet level. Here your taste buds get to explore all the corners of modern Thai cooking with its wealth of specialities. Kiin.dk

Paustian, the luxury furniture house, is practically overshadowed by its restaurant. This is where charismatic Bo Bech is at the helm with his unique blend of classical French gastronomy and his own unique experiments. Restaurant Paustian offers an exiting á la-carte menu, a lunch and a three course dinner menu. Choose from the classical Brillat-Savarin, the experimental Alchemist and the vegetarian Chlorofill. Restaurantpaustian.dk

Traditional dishes are still a favourite for the visiting gourmet. The Nyhavn canal area still houses more than 30 restaurants, many serving the traditional smorrebrod, rye bread heaped with delicacies like beef, duck and the inevitable herring always tasting just perfect, particularly served with a glass of probably the best lager in the world.

Flights from the UK are short and convenient and in less than 2 hours you can be there. SAS flies from London Heathrow and City Airports, Birmingham, Manchester and Aberdeen. See flysas.co.uk for more information.

For further information log on to Visitcopenhagen.com and Visitdenmark.com, where you can also book accommodation.