The gateway to the Caribbean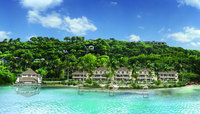 Located in the middle of the Leeward Islands in the Eastern Caribbean lies the tropical island and new investment hotspot of Antigua. Now regarded as 2009's most chic and glamorous tourist destination of the Caribbean, the island offers holidaymakers and residents alike their very own Robinson-Crusoe retreat with miles of white sandy beaches and crystal clear waters.
Drenched in natural beauty, with endless powder white sands, hidden coves and protected coral reefs, holidays in Antigua can be described as the ultimate Caribbean escape and are truly a beach lover's paradise.
Antigua has experienced a recent property boom thanks to improved flights and extensive foreign investment. The country's drawing power also lies in its tropical climate, the outstanding golf and yachting facilities on the west coast combined with the fact there are 365 beaches on the island enabling a beach for every day of the year. Furthermore, the vibrant culture, excellent restaurants and nightlife and the variety of tours and excursions have resulted in Antigua becoming renowned as one of the top holiday and vacation destinations in the world.
Jeff Hadeed, a developer on the island for South Point, a boutique residence hotel comments: "The tourist market in Antigua is really taking off due to the stunning beaches, the fantastic weather and the wealth of activities on offer. In turn this has fuelled demand from second home buyers and investors looking to purchase an island getaway as prices here represent excellent value for money when compared to other places in the Carribean."
For those who fall in love with Antigua and want to invest in their own piece of paradise on the island's shores, South Point offers potential purchasers a luxury holiday home with excellent investment opportunities.
South Point is a collection of 23 one and two bedroom apartments situated in Falmouth Harbour, the yachting capital of the Caribbean. When complete in July 2009, it will operate as a boutique residence hotel providing luxury four-star accommodation to owners and overnight visitors alike. Nestled among the rolling hills of this stunning Caribbean island, South Point offers residents breathtaking views of land and sea, while overlooking the Antigua & Barbuda Yacht Club Marina – home to a wealth of world-class mega yachts and classic sailing vessels. Its' intimate, picturesque location is just minutes away from the land-based activities of Falmouth Harbour, yet within walking distance of the areas nearby bars, restaurants and shops.
South Point has been designed with the vacation home and investment property buyer in mind and offers contemporary architecture with high specification interiors. Modern and sophisticated European furnishings and décor are used throughout the residences, restaurant, and reception areas, setting South Point apart from the traditional Caribbean retreats seen throughout the island. Each open plan suite comes fully furnished and features a designer kitchen, living area, bedroom, bathroom and spacious terrace area. The apartments also benefit from a state-of-the-art entertainment centre including CD/MP3 Player, DVD/CD Player and flat screen Plasma TV, as well as phone line and high-speed Internet connection.
The onsite facilities at South Point provide luxury and exclusivity catering to the guests every need. Residents can take advantage of a first class concierge service, suspended waterfront restaurant, styled with a fusion of Caribbean and international design, as well as the private beach, freshwater swimming pool, spa cabana and fitness centre, featuring floor to ceiling glass windows overlooking the Harbour. Other facilities include a lobby lounge—designed to be the social centre of South Point—room service, 24-hour security personnel and CCTV systems, plus house keeping and laundry services.
Free Wi-Fi is available throughout the development with public PC's accessible at the guest lobby lounge. Guests can also benefit from the hire of South Point's private chefs, masseuses and boats. Furthermore there is the option of utilising additional amenities through other third party vendors, including tennis courts, diving instruction, day sailing and yacht charters.
Prices for a one-bedroom apartment start from £331,931.
For further information please visit southpointfalmouth.com