Studio Bednarski's Sustainable Community Project in Nairobi named winner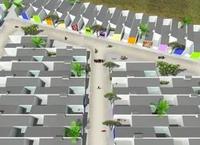 It has been announced that Kariobangi South Community project by London based Studio Bednarski has been declared the winner in the Design For An Emerging World - Future Communities Project category at Cityscape 2006 in Dubai.
The awards were set up to recognise and promote excellence in architecture and design in the emerging world. The awards shortlist was chosen from 250 worldwide submissions. The award jury, which comprised Paul Finch, Jack Pringle, Ken Yeang, Fatih Rifki and Suha Ozkan, said :
"This apparently simple approach to creating a new environment for a poor community is in fact based on a sophisticated analysis"
Two runners up in this category were Skidmore Owings and Merrill ( SOM ) with a project on the Israeli / Jordanian border, and DIST Architects from Turkey with a Plotscape project.
The winning project involves master planning and building design, initially for 500 houses. Working with the leaders of the community of Kariobangi Studio Bednarski developed a low cost house model based on a courtyard pattern and shared walls. Each house features a street-side room that is intended as a means of income generation through rent or employment. This income would enable the house owners to obtain low cost mortgages. The physical design of the houses and their planning have far reaching social and economic implications for the owners. The unique aspect of this part of Kariobangi, if compared with Kibera in Nairobi, believed to be one of the worse slums in Africa, is the fact that the community members have title to the land that they occupy. Construction of the first houses is expected to start in 2007. Estimated cost of the first phase – US $10m
The project has also been shortlisted in the RIBA SUSTAINABLE COMMUNITY BY DESIGN competition and features in a travelling RIBA exhibition ( currently at the RIBA HQ in London ). UN Habitat invited Studio Bednarski to present a talk on the project at UH Habitat seat in Nairobi.
Cezary Bednarski said :. "The project is aimed at preventing the birth of another slum. We are working with the community of KARIOBANGI SOUTH using Architecture as a tool of change. Our business is Architecture; intelligent, purposeful and graceful Architecture. Could such Architecture help in changing the social and economic standing of the urban poor and creating a sustainable community? This award should provide a tremendous boost to the project."