Romanian buy-to-let market gets boost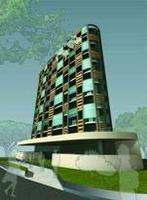 The Romanian Buy-to-Let property market is becoming more appealing after figures by the International Marketing Research & Communication Group (IMRCG) has revealed that the number of Romanians taking holidays in their own country each year is increasing.
The figure of people taking one holiday has risen by 20% in 2005 from the year before. It would seem that even more are indulging in multiple holidays every year with the figure almost doubling from 9.6% to 20.6% for 2 holidays and tripling for 3 or more.
Traditionally the hot spots have been the Black Sea, Brasov and Prahova Valley resorts (25.5%, 6% and 5.8% respectively from 2004 data collated by IMRCG), and it would seem the popularity of the coast is continuing to increase. The Carpathian Mountains are also gaining in popularity with an 18% rise from 2004 to 2005. Overall the number of Romanians that holiday in their own country totals 91% with only 9% going overseas to countries including neighbouring Greece, Italy, France and Germany.
The general increase in Romanians taking holidays in their own popular tourist destinations is a good sign for the property investment market and especially those looking to buy-to-let. Growing numbers of visitors to these top locations brings increased rental demand as well as more money being invested into the areas to improve infrastructure and generally increase the appeal to foreign visitors.
Romania on the whole is featuring more and more in the UK investment limelight, Tahir Ali, MD of Romania Revealed comments "We are experiencing a much greater number of enquiries for the popular destinations in Romania including the Black Sea coast from UK investors and even second home purchasers. There are a number of good quality developments available and the areas are generally becoming much more desirable to Romanians themselves as well as foreign visitors."
"The Romanian property market is very exciting and bursting with potential. EU accession expected on January 1st 2007 has helped to profile the country as a possible and good investment opportunity, but besides all the economic reasons why Romania offers a great opportunity, I have visited many times recently and I am blown away be the beauty of the country and the peoples friendliness. On that basis alone I can see why Romanians themselves choose to stay in the country to holiday!"
For further information on Romanian property, visit romaniarevealed.com.