More investment opportunities beyond Bucharest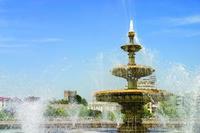 Bucharest is big business in Romania, but now other cities and towns are gradually emerging, demonstrating that there are more investment opportunities beyond the capital.
Following on from the increasing growth of Bucharest, new areas are now attracting more and more foreign real estate investment away from the Romanian capital. Obelisk International says that other regions including Transylvania, Romania's biggest tourist asset, is enticing overseas property investors to what is tipped to be the new Bulgaria in terms of growth.
Tourist areas, outside the capital and the coastal resorts, are springing up in the interior of the country due to increasingly popular activities such as skiing, various outdoor pursuits, and the multitude of medieval towns including Brasov and Sighisoara, the main towns for the Carpathian Mountains and Romania's largest ski resort. New infrastructure to the area will also help stimulate growth and includes a new international airport in Brasov, which is due to complete in 2008, and a motorway connecting the airport with the city of Bucharest.
The Brasov airport will boast a capacity of one million passengers a year with carriers such as easyJet and Ryanair planning to run flights from the UK. easyJet has also announced that from 29th October they will be flying direct to Bucharest for only £29.99 each way, cutting the cost of flights by £120 and further boosting property investment exposure for the country.
Romanian investment opportunities do not stop at the tourist destinations, the university city of Cluj­Napoca with the largest population in Romania is situated 200 miles north west of Bucharest and is a huge rental market opportunity with over 54,000 students and attracting many buy-­to-­let investors.
Romania has a double taxation treaty with mortgages open to both locals and foreigners, but despite its Black Sea coast, booming capital city and emerging ski resorts, Romania has yet to see the same development boom as its neighbour Bulgaria, which all points to an early profitable market for the prudent property investor.
For more information on property investment in Romania, visit obeliskinternational.com.