Croatia - Coast vs. City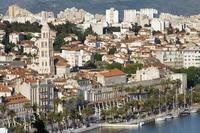 The Croatian economy is currently in a period of transition based on services and light industry. Tourism and the banking sectors have a special place in the national economy as they attract the most foreign investment.
Croatia has the 4th highest level of FDI per capita among eleven Eastern European countries as a direct result of its pro-business climate and well educated workforce.The country is politically and economically stable with EU entry on the horizon and property prices have been increasing over the last few years.
There is no doubt that coastal Croatia is more commonly known to foreign investors. In the last few years the country has become extremely popular as a holiday destination among Westerners. It is much cheaper than Spain or Greece and at the same time has equally, if not more spectacular, coastal areas.
This development of the coastal areas has attracted property investors, especially Germans and Austrians, who have always had strong ties with Croatia.
The Croatian holiday homes market has experienced a price boom over the last few years, although they are still cheaper than in Spain or Italy. Increasing interest from foreign buyers looking for second homes or retirement residences has boosted the market.
Currently Croatia has about 4,000 holiday homes. Most of them are second-hand homes. The large new developments have only just started and the first of them will be delivered to the market in the second half of 2007.
Property Secrets believe that coastal properties are generally very risky if treated as a pure investment. Markets driven mainly by foreign buyers and tenants do not offer short term exit strategies. And there is the added risk that a holiday destination will go out of fashion and we already know that Croats are not interested in buying property on the coast – at least they have shown no inclination to buy on the coast up to now.
The situation is very different for inland Croatia, especially in the capital city Zagreb. Cities in general, show more potential for property investment as they cater for the local market and are generally more stable.
Zagreb is relatively small for a capital city with only 783,000 inhabitants but it offers good property investment opportunities as it is the political, administrative and cultural centre of the country.
In Zagreb, companies such as GlaxoSmithKline, IBM and Siemens, L'Oreal and Nestle have all established commercial bases. They created substantial employment opportunities that have resulted in strong levels of inward migration of professionals.
As an effect of the economic prosperity in Zagreb, we have the all-important creation of an aspirant middle class, which, with purchasing power, seek a more Western lifestyle, at least in terms of accommodation. These people are likely to buy and mortgages support their demand. There are also Croats who will rent before they start a family, providing a small but stable rental market for foreign investors.
Mortgages are widely accessible for Croats. Mortgage lending in Croatia has the highest debt rate to GDP ratio among all CEE countries.
Strong demand for housing, especially new builds, comes from the emerging middle class. Demand for modern apartments in Zagreb exceeds supply and the city also lacks adequate modern, residential stock. The estimated housing deficit is some 50,000 apartments and with around 8,500 units delivered to the market every year, the city will not fulfill its housing needs in the next five years, even if that shortfall does not rise. The existing housing stock is old and of poor quality, especially when you consider that most of the stock was built between 1946 and 1989.
The rental market in Zagreb is relatively strong but small.
Some 10% of the housing stock in the city is rented, most of it on a long term basis. However, the demand for quality, middle price apartments to let is rising.
Due to the comparisons and similarity between Zagreb and other CEE capitals, we believe there is still room for significant property price growth.
Prices in Zagreb are rising at between 10–20% per year and this combines with a solid rental market – a very attractive combination.
We expect the 10–20% a year growth to continue for at least the next couple of years and be further boosted once EU membership for the country gets nearer.
Property Secrets – helping our investors understand Croatia's huge potential and current risks
Croatia is only a good place to invest in if you have in-depth knowledge of where to avoid – Property Secrets, via our analyst team and investment brokers, has this expertise to help our members.
Property Secrets has launched the 'Croatia Property Market Profile' which is the latest in their range of Country profiles, providing you with an in-depth analysis on exciting property markets and investment hot spots in Europe. 'Croatia Property Market Profile' will provide you with detailed information on the property market in Croatia, with a comparison of the coastal and city areas and specific information on Zagreb and reasons why it is set to be a hot market for future property investment. This essential guide to Croatia is written by Property Secrets' expert Research and Analysis team and includes a demographic and economic overview, as well as an insight into individual locations. The publication offers an all-you-need-to-know guide on Croatia for any property investor.
The Croatia Property Market Profile has been produced in addition to existing country profiles in Albania, Czech Republic, Poland, Romania, Bulgaria and Ukraine, with more to follow shortly such as Cyprus, Latvia and Malaysia.
Croatia Property Market Profile will be available to download for £17.99 or FREE for Property Secrets members. This can be purchased along with other ebooks and publications, via the Property Secrets' website (propertysecrets.net).
A Property Secrets' membership costs just £7.99 per month and gives access to an unlimited number of reduced price publications, advice and forums, as well as a host of other benefits unavailable to non-members.
Property Secrets is currently offering a free 14 day try-before-you-buy promotion to any new members, or existing Lite members who upgrades to PRO membership.