Autumn finance offers from Suzuki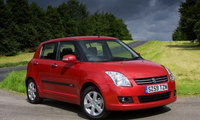 Suzuki is pleased to announce that its highly competitive 0% APR finance offers available on Swift, Splash, SX4 and Grand Vitara SZ models will continue until the end of this year; enabling customers to take advantage of an easier way to buy a new car either via scrappage or by trading in a more recent model.

With the government scrappage scheme now extended, customers purchasing a Swift, Grand Vitara, SX4 or Splash can use their 10 year old "banger" towards the deposit on their new car and still benefit from 0% APR. For example, a new Swift 1.5 GLX 3 door is available with a deposit (after £2,000 scrappage allowance) of £1,060 followed by 36 monthly payments of just £198 per month.

Suzuki has seen much success with the scrappage scheme already and the further extension of the finance deals looks set to help this continue. Over 7,600 orders have been taken to date with 5,800 already delivered to customers.

Commenting on the success, David Seward, Director of Sales and Marketing said; "Our current offers have proved that customers are keen to buy a new Suzuki; scrappage orders to date show that more than 93 per cent of our sales are conquest from other brands which reinforces that Suzuki are offering the right cars at the right time. By combining the scrappage scheme and the 0% APR offer, customers are able to benefit from a minimal deposit and low monthly repayments on a brand new, cleaner and safer car with no surprises on the final cost."

For more information on the Suzuki product range visit suzuki4.co.uk.