Harvey takes Porsche Carrera Cup double at Snetterton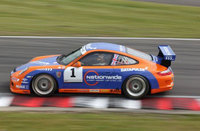 Tim Harvey scored an emphatic double victory in rounds 11 and 12 of the 2009 Porsche Carrera Cup GB at Snetterton on Sunday (2 August 2009). Harvey took the championship lead with a superb performance, but behind him there was plenty of action and battling as Glynn Geddie claimed a Pro-Am1 double and Glenn McMenamin and Paul Hogarth took wins in Pro-Am2.
Round 11
Harvey (Oxford) won the dash to the first corner in the opening race from team-mate James Sutton (Barnet) and as they battled Tim Bridgman (Stansted) was able to dive through to second place. Michael Caine (Newmarket) and Geddie (Aberdeen) made up a leading quartet and soon went clear as a first corner tangle eliminated Robert Lawson (Richmond) and delayed his team mate Derek Pierce (West Kilbride) and Tom Bradshaw (Blackburn).
Harvey quickly took control at the head of the race as Bridgman battled to hold off Sutton. Lap by lap, Harvey was able to edge away and built his lead to around three seconds. However, life was not so straightforward for Bridgman and his efforts to contain Sutton finally ended when Bridgman was caught behind a back-marker onto the Revett Straight and Sutton dived past. With Caine close behind, that was how they finished, with Harvey re-taking the championship lead from Bridgman.
"That's a great result," said Harvey. "My season always seems to start at this point. I wanted to get through the back-markers carefully and it was completely under control." Sutton had a late scare in traffic, but stayed clear of Bridgman to secure second place. "I'm pretty satisfied with that," said Sutton. "But it is really busy out there." Bridgman, meanwhile, accepted that he did not have the speed to match Harvey. "I didn't quite have the race pace, but it was all about the back-markers."
While Caine took fourth, Geddie claimed a dominant Pro-Am1 win after a faultless drive. "I wanted to try and stick with the top four, but it wasn't worth taking any risks," he said after concentrating on winning Pro-Am1. Into second in Pro-Am1 came Ollie Jackson (Ely) from Tony Gilham (Dartford). However, Gilham had run second in pursuit of Geddie until he spun at Riches and dropped behind Jackson. Jackson had been involved in the first corner incident and was initially concerned that he might have damaged a radiator, but all was well and he raced through to second-place in Pro-Am1. "I was pushing hard to catch Geddie and spun," admitted Gilham of his indiscretion.
The Pro-Am2 battle was a tremendous feature of the race and for many laps it was Hogarth (Knutsford) leading from Paul Mace (London) and McMenamin (Milton Keynes). The cars were seldom more than a few feet apart and finally, on lap 17, Mace dived past Hogarth into the Esses. However, Hogarth fought back as McMenamin dropped away with a spin at Russell. Then, on lap 23 Hogarth and Mace were side by side into the Esses as Sutton came through to lap them. The Pro-Am2 leaders touched and spun and with both cars damaged they were out, which allowed McMenamin though to victory from Bob Lyons (Aberdeen), who had lost time with a first lap spin, and Robin Clark (Edenbridge). "I had an idea that could happen," said McMenamin. "After I spun, I thought that was it."
Round 12
In the weekend's second race Harvey shadowed Sutton for lap after lap with Bridgman and Caine again leading the chase. However, into the closing stages Harvey moved ever closer to Sutton and started to look at ways to take the lead. Into Riches on lap 19, Sutton locked a front wheel and ran wide onto the grass as Harvey and Bridgman swept through. Then, as Sutton rejoined on the run to Sear, Caine tried to dive through. The cars made contact and Caine was out on the spot as Sutton recovered to salvage third place.
But it was Harvey who took a fine double win to make it a perfect weekend. "I've had a great day; I knew right from testing on Friday that my car was really strong." Red Line Racing was announced as 'Team of the Weekend' and Bridgman acknowledged that he did not the have the pace to match Harvey this time around. "We did a good job, but they did a better job," said Bridgman. Sutton was a frustrated third while Geddie made it a Pro-Am1 double with fourth overall and was right on Sutton's tail at the flag. "It was a good result," said Geddie. "I was trying to get an overall podium and I'm sure it will come." Geddie was confirmed as 'Driver of the Weekend'. Fifth overall and second in Pro-Am1 was a good result for Gilham, who spent many laps defending his place from Bradshaw. "It was tough keeping Tom behind," said Gilham, who significantly closed the Pro-Am1 points' gap to Lawson across the pair of races. Jackson completed the Pro-Am1 podium, but Lawson was on Jackson's tail at the flag.
Once again, the Pro-Am2 battle was one of the features of the race as Hogarth fended off Mace and McMenamin. It was incredibly close for most of the race and Hogarth and Mace ran side by side into Russell with two laps to go. Then, a lap later Mace dropped down to first gear at the Esses in avoiding contact with Hogarth and a quick spin dropped him behind McMenamin. "I never got a lap on my own," said Hogarth. "I couldn't afford to make a single mistake."
The next rounds of the 2009 Porsche Carrera Cup GB Championship take place at Knockhill, near Edinburgh, on August 15/16.