Leeds leads the fashion pack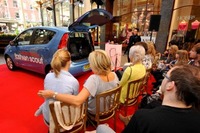 London, watch out! When it comes to individuality, the streets of Leeds are proving to be as hip as any catwalk at London Fashion Week. New research from Vauxhall Motors shows the city's trendsetters have even beaten Londoners' in the style stakes.
Of the 2,000 Britons surveyed, nearly half (40%) found Leeds' street fashion is the most inspiring in the UK, pipping London's street cred (32%) to the post.
With Leeds hot on the stacked heels of London's fashion credentials, Vauxhall, whose Vauxhall Fashion Scout initiative is the biggest off-schedule venue at London Fashion Week, has brought Car'Walk to Leeds. Car'Walk is an exclusive taste of London Fashion Week, broadcasting catwalk shows and backstage commentary from the boot of an Agila at the city's historic high-end shopping haven, the Victoria Quarter.
Simon Ewart, from Vauxhall Motors commented, "We've known for a long time that Leeds has a great reputation in the fashion world, so we thought we'd drive the best bits up.
"The Car'Walk is a first and it is our way of raising awareness about Fashion Week outside of London and also giving people in Leeds a front row taste of what they are so passionate about."
The research also revealed that Leeds locals are most adventurous with their dress sense. Well over a third (38%) claimed they don't follow rules, preferring to accessorise, customise and individualise so they stand out from the crowd. By contrast, just 28% of Londoners were willing to take a chance on expressing themselves through clothes with over a quarter (26%) preferring to take their lead from celebrity magazines and high street retailers' windows.
Martyn Roberts, director of Vauxhall Fashion Scout, says: "It's well known that Leeds is a hot fashion hub. In fact some of the designers we work with, such as Leeds-born Andrew Bannister of studio_805 get their inspiration from its streets.
"People in Leeds 'get' fashion. It is a young, energetic city and fashion is very important to its people. Walking around Leeds you see a kind of style-conscious competitiveness in the way people dress and that is inspiring and exciting for trend-spotters."
The Car'Walk event (so named because the London catwalk shows are broadcast to Leeds from the boot of an Agila) will feature collections from some of the hottest tipped talent in the UK today – Vauxhall Fashion Scout's Ones to Watch.
The survey identified the top five trendsetting cities dominated by the north, highlighting a fashion divide. The link is made stronger thanks to celebrities such as style icons Agyness Deyn and Cheryl Cole.
Leeds (40%)
London (32%)
Glasgow (15%)
Manchester (7%)
Newcastle (6%)