Winter wellness at the Med's largest spa resort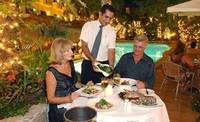 Winter is approaching and with rising energy costs, bitter weather and recession depression taking over the nation, it's no wonder more and more Brits are choosing to spend the cold and gloomy months overseas.

The 5* Fortina Spa resort in Malta have recognised this growing trend and have launched a longer stay holiday package, making winter in the Mediterranean even more tempting.

With a milder climate and higher numbers of sunshine hours than Britain, Malta is the perfect winter hotspot. With beautiful beaches and a diverse array of activities, it's astonishing to learn that this haven is only a 3 hour flight away from the UK. Malta also boasts more than 7000 years of fascinating history, including the oldest known human structures in the world, perhaps explaining why their perfected cuisine is so delicious.

The Fortina Spa Resort are proud to boast several clients who have been coming year on year, spending up to three months at a time living in the resort making the most of its vast and varied offerings. Guests at the Fortina can experience all the fun and luxury of a great five star, all inclusive break, in a stunning location and treat their body to an ultimate relaxing and healthy indulgence. Going abroad for the winter can also be beneficial to the bank balance, saving money on expensive heating bills and rising energy costs.

Two Britons in agreement are Terrence Kelly and wife Margaret from Crosby in Merseyside. The 65-year-old couple have been taking extended stay holidays at the Fortina since they retired a decade ago. They say long stay breaks are good value for money compared to remaining in the UK, thanks to the all-inclusive element and use of the hotel's facilities, which include a pool and spa.

Former builder Terrence said: "It's excellent value – if you had to do the same like-for-like in the UK, it wouldn't come up as the same cost. Spas are expensive. I think you're getting great value for money and there are plenty of options to suit the pocket." Terrence added that one of the benefits is that the pair have made friends at the resort.

He says "We know nearly everybody here. The people are predominately older but probably because they have the time. There's a good cross section - lots of people in their twenties, thirties and forties."

There are also added health benefits to longer stay holidays, Fortina Spa Resort has long been a pioneer in physiotherapy and thalassotherapy remedial treatments but is taking its health offering a step further with the introduction of long-stay Winter Wellness health tourism programmes. These include:

Thalassotherapy pool sessions in salt water aid relaxation, as the skin is a good vehicle for the exchange of warm sea water and blood, allowing the healing minerals from the sea to be absorbed. It is particularly good for de-stressing and any kind of immobility; joint aches and pains, arthritis, disabilities, injuries and skin conditions.

An assessment with a physiotherapist who can offer long term advice and self-help tips to keep up the good work for improved posture and body alignment when back home.

Aqua aerobics classes, where in addition to the standard benefits of exercise, the use of water supports the body and reduces the risk of muscle or joint injury. The benefits are; an improvement in levels of fitness for the heart and lungs, toning the body and reducing fat.

Algotherapy harnesses the therapeutic benefits of seaweed via body-wraps and baths for detoxification and rejuvenation. Seaweeds contain a concentration of nutrients, vitamins and minerals which are absorbed by the skin and help to break down fatty deposits.

Access to Spa Santé with its heat and ice experience zones is a great place to while away a few hours relaxing, de-stressing and detoxifying with its reflexology basins, steam rooms, ice cave, Tepidarium and Caldarium. All helping to ease aching joints and busy mind.

If you are struggling with a more serious physical problem and need some rehabilitation and TLC there are experienced physiotherapists and nurses on hand with all the latest professional equipment to get you back on top form.

Fortina proudly boasts six exquisite restaurants including Hibiki (Japanese Cuisine), Can Thai (Thai and Chinese Cuisine), Sa Re Ga Ma (Authentic Indian Cuisine), Il- Giardino (Italian Pizzeria) and Tigne Brasserie (French and Continental) and if you want to take your health holiday to the next level you can choose to dine in the resort's Taste Restaurant where a healthy menu has been carefully created by the hotel's Executive Chef and a leading UK Nutritionist. Each of these well balanced, delicious, dishes has the nutritional values printed alongside them so you can be in control of what you are eating. If your main goal is to lose weight there is a Slimming/detox programme available which offers tests, monitoring and support throughout your stay to help you achieve your goals.

Fortina also boasts the world's first Wellness Rejuvenation Rooms which offer the latest technology to help revitalise your body and mind by creating the perfect environment to soothe you into a deep healing sleep, leaving you to wake feeling refreshed and invigorated. The magnetic field can help to alleviate symptoms of fatigue, aches, stress, stimulate circulation boosting blood flow.

For further information about the Fortina Spa Resort, visit hotelfortina.com.