Von Essen acquires The Forbury Hotel, Reading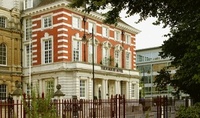 The Forbury Hotel is a luxury five star hotel in the heart of Reading, located within the peaceful setting of the Forbury Gardens. The hotel will be the first hotel in the Metropolitan set of von Essen hotels, to be followed early next year with the launch of Hotel Verta in London.

The building, built in 1911, is the former Berkshire Shire Hall and is a grand and imposing listed building that effortlessly lends itself to its current status as a luxury hotel, which has 23 rooms and suites arranged over 4 floors.

In addition von Essen has also purchased the 16 self contained apartments and penthouse adjacent to the hotel.

From the bold and lavishly appointed interiors to the vast and eclectic private art collection, the hotel has an overall feel of opulence, style and comfort. Every detail sets the standard of the highest quality at every level in the hotel.

Designed for both business and pleasure, The Forbury boasts the latest technology and stylish yet functional surroundings in dedicated rooms provide the ideal location for meetings and events. There is even a 30 seat private cinema – ideal for both private and corporate use.

The Forbury's dining experience continues von Essen's tradition of excellence in their F&B offering with 'Cerise' the hotel's trendy brasserie and bar.

Von Essen hotels' expansion across the UK continues with the addition of The Forbury Hotel in Reading. The von Essen hotels private collection now numbers 29 hotels and at the beginning of 2010, will see the opening of the second hotel in the Metropolitan set, Hotel Verta in London, bringing the total hotel count to 30. Hotel Verta will be the group's first new build property and is the first integrated hotel heliport solution in the world. The growth of the Metropolitan set - inner city hotels with a predominantly business travel related customer base fulfils a strategic objective to diversify and strengthen the von Essen hotel portfolio.

Andrew Davis, Chairman of von Essen says, "We are delighted to have acquired The Forbury Hotel, the inaugural member of our Metropolitan set. A key strategic objective for the collection is to acquire properties in the UK's principal cities – The Forbury is a fitting first hotel in this set and a valuable addition to the von Essen portfolio."

For more information, visit vonessenhotels.com.