Luxury in Lapland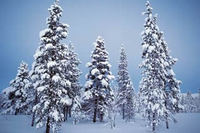 The white Christmas is traditional to British culture, but it is a rare occurrence in the UK. The last official Christmas snowfall was in 2004 and this year reports predict that the likes of London have just a 10% chance of seeing a single snowflake on the 25th December. However, if you are dreaming of waking up on Christmas morn to a blanket of the white stuff you could head to Lapland to enjoy the ultimate magical family break.

High above the Arctic-Circle's snow clad landscape you'll find grazing reindeer, husky sledges and Santa Clause himself! Children will never forget this luxury holiday of a lifetime and chance to be guided around this winter wonderland by one of Santa's very own elves.

After a 3.5hour flight the magic starts when you meet your personal elf guide and drive through the snowy landscape to your warm log cabin where a welcome pack, warming breakfast and thermal clothing awaits! This is the perfect day to relax with your children who will be eagerly awaiting a meeting with Santa.

Day two starts with a memorable private husky sledge tour through deep forests and past frozen lakes. In the afternoon you'll be treated to a private ride in Santa's sleigh pulled by reindeer - will you spot Rudolph?

Your third day starts with an exhilarating snowmobile excursion. Adults get to learn to drive across icy plains, deep snow and pine forests and children can share the experience in a sleigh pulled by an experienced driver. During this winter excursion you'll be able to warm up by a roaring log fire with a glass of hot berry juice.

On your last night you will be invited to an exclusive festive dinner with a very special guest that will bring a smile across children's faces. What a great start to the festive season!

Prices are from £1,209 per adult and £1,065 per child and include flights departing from London Gatwick, East Midlands or Manchester airport. You'll stay in a private cabin and will receive a souvenir Lapland passport as a lasting memento.

For further details and to book visit sovereign.com.