Say I Do with Ranch Rider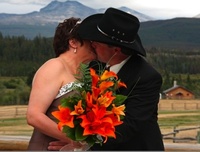 In 2010 World Marriage Day will fall on the most romantic date in the calendar, the 14th of February. To mark this special occasion, tour operator Ranch Rider will be launching its "Say I Do" campaign and featuring numerous 'fairytail' stays on its Facebook and Twitter pages.

Running from now through Valentines Day, couples looking to wed or renew their vows will be able to choose from a range of ranches, estancias and bush homes, the tour operator adding Argentina and South Africa to its 2010 portfolio.

Weddings are not strictly the preserve of resort ranches so marrying at a home on the range needn't break the bank, and there are an infinite number of spellbinding locations on offer, many properties featuring idyllic chapels on the mountainside, stunning views over shimmering lakes and amazing vistas across the wide open plains.

Catering to every couple's individual desire, Ranch Rider's partners can organise trail rides just for two, camping trips with private dinners by the riverside, weddings on horseback and even magical proposals - the bride to be's knight in shining armour riding up on a white horse.

The tour operator's new look 2010 brochure will feature information on both weddings and honeymoons - regular starry eyed sound bites appearing on Ranch Rider's Horsetweet page throughout the campaign.

Couples looking to tie the knot should also watch out for Ranch Rider's "Fairytrail Tweet," which will begin on 05 January. The daily tweets will cover a honeymoon in Arizona including, a self-drive and 7-night stay at the White Stallion Guest Ranch.

Visit ranchrider.com for further information.