Hands on ecotourism experiences in South Australia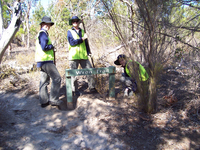 Thanks to a growing number of 'voluntourism' projects across South Australia, giving up time to take part in conservation is no longer something reserved solely for gap year students.

From contributing to field research on endangered species to taking part in flora surveys on camel back, the following are just some examples of how to make a real difference whilst enjoying extra-ordinary wildlife holiday experiences.

Best for 'Voluntourists'

- Earthwatch is the world's oldest, largest, and most respected organisation involving the public in scientific field research. Volunteers collect data under scientists' direction and work as fully-fledged expedition members, sharing the costs of the research among them. Their two-day expedition on Kangaroo Island enables participants to explore the lives of two of Australia's most unusual animals and help conserve their ecosystem. Staying in small cabins or large tents at the solar powered Pelican Lagoon Research and Wildlife Centre, guests join the researchers in searching for, radio-tracking, observing and recording the daily activities of the island's echidnas and goannas. earthwatch.org/australia

- Conservation Volunteers Australia runs programmes throughout Australia that visitors can join, including tree planting, seed collection, endangered species protection, weed control, flora and fauna surveys, walking trail construction, fencing and environmental monitoring. In South Australia projects include helping researchers build and maintain facilities as well as monitoring little penguins at Pelican Lagoon on Kangaroo Island. Alternatively volunteers can help with research activities surrounding the endangered southern hairy-nosed wombat at the Brookfield Conservation Park near Blanchetown or yellow footed rock wallabies at Aroona Dam, Leigh Creek conservationvolunteers.com.au

- Explore the Outback Camel Safaris is Australia's leading nature-based educational camel safari operator. Visitors can participate in exploratory tours to discover more about the Australian wilderness and heritage on camel back. Explore's projects are many and varied but volunteers can expect to be involved in the following broad scope of daily activities: 4-8 days of expedition-style camel trekking and riding; flora and fauna survey and identification; historical research and interpretation; general exploration; camel handling; outdoor adventure camping and navigation. austcamel.com.au/exp_info.htm

- Saunders Gorge Sanctuary is a 1364ha sheep grazing property that has been converted and developed as an eco-tourism conservation area. Located an hour east of Adelaide in the hills overlooking the Murraylands region, visitors can spend time with the property owners and learn about the history of the property and conservation work that has been achieved. They can be involved in the ongoing conservation work and preservation of the natural environment, including local flora and fauna surveys. B&b accommodation and meals are available on-site. saundersgorge.com.au

Other ad hoc opportunities:

- Arid Recovery is a community and industry conservation initiative dedicated to the restoration of Australia's arid lands. The project is centred around a 60km² Reserve located 25km north of Roxby Downs, in South Australia's Outback. Since its inception in 1997, the project has focused on gradually fencing the Reserve and eliminating introduced species such as rabbits, cats and foxes. This has provided an area of complete protection into which four species of locally extinct mammals have since been reintroduced. Opportunities arise from time to time for volunteers to assist with research and monitoring at the reserve. aridrecovery.org.au/

- Birds Australia Gluepot Reserve is one of Australia's largest community owned conservation reserves, located in the semi-arid South Australian mallee. Gluepot is home to six nationally endangered bird species as well as 17 regionally threatened bird species. A recognised centre for scientific research, there are on-going special activities which require volunteer input, such as re-vegetation, malleefowl grid surveys and black-eared miner counts. riverland.net.au/gluepot/

For more information, visit southaustralia.com.