Philippines benefits from Chinese tourism boom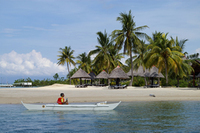 A Chinese tourist boom has boosted Philippines foreign visitor arrivals by six per cent in the first half of this year, with the island of Cebu being the most popular, according to the country's Department of Tourism.

The island of Cebu, including the resort island of Mactan, attracted 321,116 foreign tourists in the first half of 2009. This excellent performance is attributed to the expansion of air routes to key destinations within major international regional tourist markets, such as Shanghai and Guangzhou in China, Busan, South Korea, and Kaschsiung, Taiwan.

John Scott, finance director of Asset Property Brokers, a property investment company specialising in the Philippines, said: "Asian economies, particularly China, are surging ahead and the Philippines tourism is in an excellent position to take advantage of this. The IMF predicts the Chinese economy will grow by a staggering 9 per cent in 2010. This rising affluence has led to the growth of an aspirational middle class who want a relaxing beach holiday abroad, and they find the Philippines an unbeatable destination, helping to boost occupancy rates and yields."

Chinese tourist numbers to the Philippines surged by 20 per cent from January to March 2009, making it one of the fastest growing outbound destinations.

Asset Property Brokers has properties available at Blue Coral Resort and Spa, Mactan Island, within 30 minutes of Cebu airport, the country's second busiest airport. The five star beach resort has been particularly popular with investors and only a quarter of the 140 units remain, ranging from £52,000 studios to £182,750 three-bedroom poolside villas. Among many attractions, Mactan Island boasts reef diving, golf and powder white sand beaches.

Developing the Blue Coral Resort and Spa is Paradisya Land, one of the Philippines leading developers. The firm has a highly successful track record in creating major new tourist destinations.

The resort, managed by Continent Hotel and Resorts, has secured a major five-year booking with top South East Asian tour operator, Oriental Spirit Travel & Tours Corp, a subsidiary of Hyundai and Samsung.

For further information visit assetpropertybrokers.com.