Eibach release new lines for Audi A5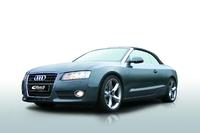 As coupe and convertible designs go, Audi's A5 has been a huge success on many levels. As a classic GT combination, the winning formula of style, space and decent pace has proven to be a big hit in the showrooms.
Audi's A5 package is hard to fault, but in striving to achieve the ultimate Grand Tourer, some enthusiasts feel that the handling set-up errs a little too much towards comfort - possibly at the expense of precision.
Coming to the rescue is the latest array of products from Eibach. The German suspension manufacturer knows a thing or two about fettling Audi chassis' being the official technology partner to the Audisport team. Their new Pro-Kit spring system for both Coupe and Convertible versions lowers the car by approximately 30mm and in doing so, creates a chassis with more responsive steering and greater control.
Eibach's engineers have taken great trouble to ensure that ride comfort remains as close as possible to factory standards with their ingenious 'progressive' winding on each spring. Each coil rides on a softer section for straight line work and everyday cruising, but instantly loads up onto the stiffer sections during fast road driving or spirited cornering. By using the factory data, the Pro-Kit is designed to work in perfect harmony with the original damper settings.
Drivers looking for the ultimate in turn-in and steering feel can opt for the wide range of Pro –Spacers. Available in a vast array of sizes, the Pro-Spacer kits allow fine tuning of the cars track measurement, either with OEM or aftermarket wheels. As well tuning the car dynamically these spacers also add a usual visual 'kick' by ensuring that the wheels perfectly feel the arches.
Priced from just £171.43 for the Pro-Kit and for the £72.17 per pair for Pro-Spacer, these are the perfect first modifications for any A5 owner looking for the best of both worlds.
For more information, visit eibach.co.uk