Directors buy Renault Trucks distributor JDS Trucks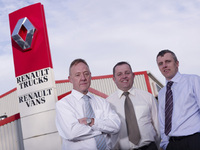 Renault Trucks distributor, JDS Trucks Ltd., has been bought by its three directors, Mark Griffiths, Peter Glover and Richard Davies, from former owner Peter Harper. The company, which operates from Manchester, Blackburn and Leeds, has been part of the Renault Trucks network since the early 1990's.
Richard Davies, Dealer Principal, JDS Trucks, says: "This is very much a team effort and we are all very excited by the acquisition in very difficult times for the industry as a whole. Between the three of us we have over 70 years of commercial vehicle experience and we can honestly say that trucks are in our blood!
Although times are challenging at the moment, we are very much looking forward to taking on this challenge and to working closely with Renault Trucks and with our customers. Our number one focus will always be on quality of customer care and satisfaction and we want to ensure that we always go that 'extra mile' for our customers. Our plan is to build on the already well known JDS brand and continue to operate a high quality business as usual."
Richard Davies joined JDS Trucks two years ago after 25 years with Mercedes Benz; Mark Griffiths, Finance Director, has been with JDS for 10 years and; Peter Glover, Aftermarket Director, has been with the company for 18 years.
JDS Trucks was established in 1965, as J Douthwaite & Sons, and bought by Peter Harper 20 years ago.