'Reefresh' your weary limbs in Sri Lanka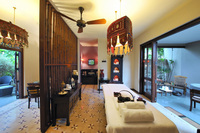 Reef - The Ultimate Tropical Beach Villa, Sri Lanka launched in early 2009, has now opened its private and intimate Reefresh Spa, set amongst the property's three acres of exotic tropical gardens.

The same attention to detail that is exhibited in the suites has been applied to the design of the Spa. Exotic aromatic treatments are performed by the resident therapist using naturally sourced products and essential oils.

Signature treatments include for a turmeric natural honey wrap, salt scrub and facial massage and the Reef restorative clay cocoon wrap – a highly nourishing treatment, smoothes the skin and draws out impurities whilst the body is gently cocooned under banana leaves.

Other treatments include for hot stone therapy, and facials with products using extracts of neem (Azadirachta indica), asparagus (Asparagus racemosus ), turmeric (Curcuma longa), and tea tree oil.

Unique to Sri Lanka, Reef offers spray paraffin wax treatments with extracts of tea tree oil, peppermint and patchouli, or white or lavender for the back, face, hands and feet.

OPI manicures and pedicures are offered as are herbal floral baths in the Reefresh Spa courtyard or in the privacy of your own suite.

The 3 ½ hour Ultimate Pampering treatment at £135.00 includes for a deluxe pedicure on completion.

A full body massage with essential oils commences at £37.00.

Suites start at £210.00 per night including breakfast, service charges and all taxes.

Reef is a truly spectacular luxury beachside hideaway set in three acres of exotic tropical gardens, just 45 minutes south of Colombo, Sri Lanka.

With a 65m sandy beachfront, all weather tennis court, large swimming pool, lush tropical gardens, huge lily ponds, garden pavilions, gourmet kitchens, Reef has set a new bench mark for luxury accommodation in Sri Lanka.

To maintain the romance and privacy, there are just seven exclusive and palatial suites; the ultimate in elegance and luxury.

For reservations and more information, email info@reefvilla.com.