New ferry route opens gateway to Iceland's 'Pompeii of the North'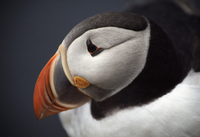 A new ferry pier on Iceland's south coast is set to provide the first high-speed link to the Westman Islands - the site of Iceland's 'Pompeii of the North'.

Due to open in July 2010, the new Bakkafjara pier will reduce crossing times to Heimaey, the largest and only inhabited island of the Westman Islands, to just 25 minutes, with the new ferry link operating up to seven times per day. Previously visitors had to either fly or take a 2 hour 45 minute ferry crossing from Þorlákshöfn pier on the Reykanes peninsula.

The new ferry link is predicted to make the Westman Islands 2010's 'hot' destination as a day-trip option from Reykjavik or for visitors exploring southern Iceland by car.

Located seven miles off the south coast of Iceland, the Westman Islands archipelago is characterised by dramatic volcanic scenery and steep sea cliffs, which are home to Iceland's largest puffin colonies. In August, visitors and islanders help to rescue baby 'pufflings' as they leave their nests for the first time and help them learn to fly.

In 1973, the islands experienced one of Iceland's most devastating volcanic eruptions lasting over five months and covering nearly a third of the original town of Heimaey.

Today, visitors can witness the massive impact of the eruption by looking around some of the abandoned homes and buildings that were covered by volcanic ash and lava. Excavated by the "Pompeii of the North" project, the findings aim to provide an insight into the destructive force and awesome power of a volcanic eruption on this scale.

Upon the launch of the new ferry route, Iceland Excursions will operate day tours to Heimaey from Reykjavik. The tour will include sightseeing around Heimaey, visiting the 'Pompeii of the North' excavations; the lava field and volcanic crater caused by the 1973 eruption and the puffin colonies at Storhofdi, the windiest place in Iceland. A wildlife cruise around the island is also included to see the millions of seabirds, which make the island their home, as well as ocean caves, and whales.

The full day tour will depart Tuesdays, Thursdays and Saturdays from July – September and will cost around £155.

For more information, visit icelandexcursions.com.

For more information on the Westman Islands and the Pompeii of the North Project visit visitwestmanislands.com.