Sponsor a Whale Shark this Christmas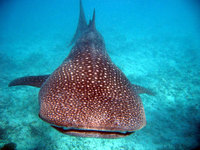 Stuck for gift ideas this Christmas? The Maldives Whale Shark Research Programme (maldiveswhalesharkresearch.org) has come up with a new twist on the stocking filler with a whale shark sponsorship scheme. The UK charity has created this new scheme to fund their ongoing research and keep the project alive with help from The Conrad Maldives Rangali Island.

The whale shark sponsorships provide a memorable Christmas present and one that will bring great pleasure to those interested in conservation and wildlife, as well as people who are interested in seeing these enormous creatures in their natural habitat. As well as 122 Whale Sharks currently in the database, there are also a small number of whale sharks without names at present, allowing sponsors to give them whatever name they desire!

Sponsors will have exclusive access to information regarding their whale shark including when and where they have been sighted and how much they have grown. A certificate will also be sent upon sponsorship of a whale shark thanking the sponsor for their contribution and explaining where their money will be spent.

The dedicated MWSRP team will be returning to their research site on the South Ari Atoll in the Maldives in December to continue their important research and MPA (Marine Protected Area) development work with stakeholders and the local community.

The Conrad Maldives Rangali Island will once again provide support by giving the team accommodation on a local island, supplies, as well as diving equipment and the use of their boats. Guests at the resort will also be able to take part in the research by accompanying the team on their excursions to study the whale sharks, taking samples and measurements and assisting the team with their conservation work.

The not for profit organisation has already paved the way in establishing new whale shark guidelines in the country, with the Maldivian government requesting that their direction and hard work establishes community and tourism industry guidelines to protect the vulnerable species.

A 12 month Whale Shark Sponsorship scheme is available for a donation of $200. For more information on the Maldives Whale Shark Research Programme – Registered charity number 1130369 – visit the website mwsrp.org/adopt-a-shark/

For more information on the resort visit conradmaldives.com.