New Renault Premium replaces Volvo at GE Smith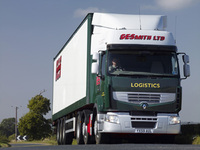 Yorkshire based haulage contractor, GE Smith Ltd., has taken delivery of a new 6x2 Renault Premium 450, with Privilege cab and Optidriver+ gearbox, through Renault Trucks distributor, Thompson Commercials at Hull. In an important conquest deal, the Euro 5 truck replaces a Volvo and is the first Renault to join a 13-strong fleet of Volvo and DAF.
The new truck will operate nationwide, pulling box trailers, to transport predominantly ambient products such as food, drinks and confectionary. Paul Smith, Owner, GE Smith Ltd., says: "We have never had any dealings with Renault Trucks in the past but were attracted by the Renault Premium's quality driveline at such a competitive price. We were also able to take advantage of the 3 year interest free credit option offered by Renault Trucks. Depending on how we get on with the new Renault Premium we will certainly consider more Renaults in the future and feedback from drivers so far has been positive. We are hopeful of developing our relationship with Renault Trucks and Thompson Commercials further."
GE Smith Ltd. is an independent family company based in Malton, North Yorkshire. Established in 1955 by George Ernest Smith, the company began by hauling pit props out of
Dalby Forest to the coal mines in the north of England. Today it operates a nationwide haulage service.