New Renault Kerax move the earth for JC Balls and Sons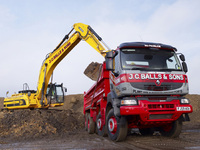 Plant hire and excavation contractors, JC Balls & Sons, has taken delivery of three new Renault Kerax 370.32 8-wheel tippers, fitted with Boweld Mucklite bodies, through Renault Trucks' distributor, RH Commercial Vehicles. The new Renaults join a 30-strong mixed fleet and will be maintained by RH Commercial Vehicles.
Operating across the East Midlands, the vehicles will be used in earth moving and bulk excavations on projects such as road reconstruction, land reclamation schemes, construction projects and general excavation and earthworks for a number of high profile clients.
Kevin Balls, Partner, JC Balls, says: "We have a good relationship with Renault Trucks and our first new truck, purchased in 1998 was, in fact, a Renault Kerax. We have built up a fine reputation over the past 47 years and we need good quality, reliable vehicles to ensure we maintain this. The Renault Kerax is a strong, robust and reliable vehicle which is necessary for working on site, transporting earth and aggregates and meeting the tight deadlines and budgets of our contract work."
Based in Ambergate, Derbyshire, JC Balls & Sons is an independent, family business. The company was established in 1963 and, in that time, has built up a large fleet of plant, machinery and lorries, covering all aspects of earthworks.