Migrate to Antigua for sunnier climes this winter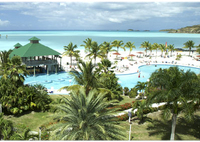 If the thought of the cold, dark days of winter makes your heart sink, Jolly Beach Resort & Spa has a something to lift your spirits.

Head to the Antiguan sun for 21 nights or more, and take advantage of the new long stay deal to receive an additional 2 free nights for every consecutive 7 nights stayed at the popular all-inclusive resort.

Antigua has an average year around temperature of 26 degrees. Consider the savings on heating your home through the chilly spell while you lounge on the island's best beach, where the resort sits in pride of place. Further savings made on food-shopping when you check-in for a long stay on an all-inclusive basis would be enough to give anyone a warm glow. Best of all is the priceless sense of smugness you'll feel when telling anyone who'll listen that you are just jetting off for a month in Antigua!

Guests heading for winter sun at Jolly Beach Resort and Spa can expect a warm welcome from friendly English-speaking staff, plus a choice of facilities that includes five bars and restaurants on site, floodlit tennis courts, two swimming pools, basketball courts, games room and the Palms Wellness Centre Spa. All rooms are air-conditioned and ocean-facing, and each has a patio or balcony and direct-dial phone.

For the adventurous, the island of Antigua has plenty of highlights: car hire is straightforward and affordable, the island is well-signposted and you drive on the left, like in the UK. Nelson famously arrived in the island in 1784, and Nelson's Dockyard at English Harbour is an excellent day out offering shops, restaurants and a bustling yacht haven. There are also natural sites of interest such as the incredible Devil's Bridge, a colossal limestone arch, plus sugar plantations, forts, art galleries and potteries to visit.

Antigua and neighboring Barbuda are world-renowned for diving; providing coral reefs, walls and numerous shipwrecks plus a choice of excellent diving schools. Antigua is the birthplace of sportsmen such as Richie Richardson and Curtley Ambrose, and cricket is something of a local passion, so between January and July there are frequent regional or international matches to watch. Antigua also has a packed activity calendar including various sailing and rowing regattas, as well as the Antigua and Barbuda Culinary festival in March.

Thomas Cook is currently offering the value-for-money long stay deal exclusively. Based on a minimum 21 night stay, enjoy 2 free nights for every consecutive seven night stay at Jolly Beach Resort and Spa. The long stay deal is available with standard, superior, king superior and junior suite accommodation.

Prices start from £1,999pp for 21 nights (pay for 15, 6 free) including flights, transfers and all-inclusive accommodation. Valid from 1 Dec 2009 –16 April 2010; 1 July – 31 Aug and 1 Nov–21 Dec 2010. Subject to availability. For bookings visit ThomasCook.com.

For further information on the resort, visit JollyBeachResort.com.