New Malta shopping mall anchored by Debenhams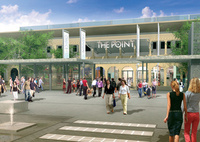 If you are looking to invest abroad or seek a home that is extra special then take time out to consider, Tigne' Point in Malta. This is a development by MIDI plc that includes spectacular apartments and penthouses, offices, a club house, a vibrant car free central piazza and a brand new shopping mall called "The Point"; all situated on an impressive rocky headland in the most fashionable district of Malta, with views of the Mediterranean and the magnificent, expansive, natural harbour.
The Point Retail Centre is set to become the largest shopping mall on the island with over 14,000 sqm of retail space when it officially opens in Spring 2010. It has been constructed at a cost of some 56 million euro to designs created by the London based firm of retail and office design consultants, GMW and leading local architectural practice aoM partnership.
The Point retail centre within the impressive Tigne Point development is spread on four floors with the lowest floor entirely dedicated to car parking. It will be anchored by Debenhams who will be offering 3,000 sq. metres of department store. The adjacent Piazza Tigne will offer boutiques, outdoor cafes and restaurants whilst The Point, will provide a plethora of shopping delights including Massimo Dutti, Mango, Guess, Lacoste, Stradivarius, Gant, Reebok, Nike and many other international brands. A state of the art supermarket is to be part of the mix and will complete the self contained destination for residents who will have everything from coffee shops and designer stores to chic restaurants and exciting retail opportunities within walking distance.
Edwin Borg, General Manager at the Point, has been involved with the project for the last three years. Says Edwin, "The mall is an exciting and momentous project and a very important element within MIDI's larger Tigne' Point development. The open plan, modern construction of the mall sits well with the surrounding scenery of luxurious apartments and the renovated 18th century fort at the tip of peninsula, all of which, taken together, create a multi-faceted, mixed use development which is quite unique".
The residential element of Tigne Point is to be found within a secure and gated environment with landscaped gardens and pretty walkways surrounded on three sides by the sea. The last few homes currently for sale are all within a stone's throw of the retail mall, the foreshore sports and leisure facilities and the newly restored Fort Tigne and all enjoy a 30 acre car free environment situated just 15 minutes from Malta's international airport and a short boat ride across the harbour from Malta's baroque capital city, Valletta.
TIGNE POINT – RESIDENTIAL
Two bedroom apartments start from £360,000
Open plan penthouses, each with private infinity swimming pool start from £1,333,000.
For more information, visit tignepoint.com.