New Maserati role for Thomas Hajek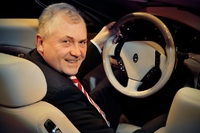 Starting on January 1, 2010, Thomas Hajek, Managing Director Maserati GB Ltd has taken up the responsibility for Maserati in the following markets: Germany, Great Britain, France, Monaco, Spain, Portugal, Switzerland, Austria, Belgium, Holland and Luxembourg.
Hajek (49) started his international career in the Fiat Group in 1988. In several executive positions he has led sales and marketing activities for Alfa Romeo, Lancia and Fiat in Germany and Poland. From 2008 onwards he was responsible for the European commercial vehicles operations of the Fiat Group Automobiles SpA in Turin.
Thomas Hajek, a native German, is married and has three children. He speaks fluent Italian, English, Spanish, French and Polish.