Online bookings soar for Auto Windscreens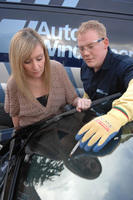 Workers choosing to stay at home and log on, rather than brave the treacherous road conditions into the office, have resulted in a 700% increase in online bookings for automotive glazing services company Auto Windscreens.
Millions of schoolchildren, commuters and holidaymakers have been trapped at home as the worst snowfalls in half a century struck many parts of Britain. Absenteeism caused by the snow is set to cost the economy an estimated £2 billion.
Nigel Davies, Sales and Marketing Director explained: "Despite our call centre being fully manned during the arctic weather conditions, online bookings for glass repair and replacement have gone through the roof.
"Our research has shown that people choosing to work remotely during this terrible weather are using the opportunity, while being online, to visit Auto Windscreens' website and book a job through it rather than pick up the phone.".
Auto Windscreens is expecting the online booking trend to continue. Forecasters said that there would be little respite over the next week as freezing temperatures will continue to grip Britain.
Auto Windscreens provides a 24/7/365 days a year nationwide automotive glass repair and replacement service. The service can be booked online at autowindscreens.co.uk.