Be a part of big cat conservation in Oman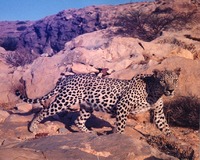 This is your chance to help with vital research work on a highly endangered, yet amazing big cat by travelling to Oman with Biosphere Expeditions – the award winning, non profit making conservation specialist which has just celebrated its 10th anniversary.

The remote desert mountains of the Dhofar region are one of the last habitats for the iconic Arabian leopard. Here you will be part of a small international team working alongside scientists from the Royal Omani Court and carrying out research into the habitat of the smallest of the big cats.

From your base, set in a spectacular mountain valley, you will look for tracks, scratch marks and other pieces of evidence of leopard presence, setting camera traps and talking with locals about their sightings of this magnificent creature.

You will survey the area for waterholes and leopard prey animals such as gazelle, ibex and hyrax. There will also be the opportunity to move to smaller, advanced research camps.

The 12 night expeditions run from 17-29 January and 31 January- 12 February 2010 and cost £1340 per person, excluding travel to and from Oman.

For more information, visit biosphere-expeditions.org.