Football fans see more with Cape Active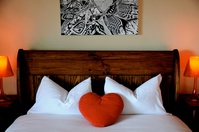 As the world converges on South Africa to watch top class football, Cape Active, a new boutique travel company in Cape Town offers stylish yet affordable accommodation for fans traveling to Cape Town.

First-time visitors looking to do more than take in a football match can also book tailor-made trips to enjoy personally escorted tours to see jaw-dropping wildlife and experience some of the unmissable gems of the Western Cape.

Cape Active's 3-day World Cup Special costs £450 per person and includes:

- 3 x nights B&B in a stylish guesthouse by the beach
- A welcome BBQ
- Transfer to one Cape Town football match
- A guided visit to a penguin colony
- Access to jacuzzi-spa with sea and mountain views

The 7-day World Cup Special cost £980 per person.

Run by a previously London-based young and multi-talented couple, Cape Active's emphasis is on personal service and care. Guests stay in Betty's Bay, an hours' drive from the airport, at a new boutique-style guesthouse by the beach, a warm and welcoming place with a great creative vibe. One of Cape Town's best kept secrets, Betty's Bay tops the list for sheer beauty, drama and pristine wilderness, those who are looking to beat the crowds will find refuge in the tucked–away privacy of the bay.

Between the matches Cape Active offers discovery tours for those looking to see more of the magnificent beauty of the Western Cape. Visitors can immerse themselves in the drama of the Cape of Good Hope, get up and close to thrilling beasts like lions, whales and even Great White Sharks or taste world-class wines at famous Stellenbosch vineyards.

Outdoor enthusiasts looking to tackle the wide variety outdoor activities on offer will find that with the sea and mountains right on the doorstep Betty's Bay has everything that's needed for fun and adventure. Activities and sights include surfing, body-boarding or kite-surfing on mile-long deserted sand beaches, sand-boarding on magnificent dunes, a penguin colony just minutes away, botanical gardens with impressive waterfalls, hiking, river kayaking or mountain biking in the surrounding mountains, known as the Kogelberg biosphere reserve, a UNESCO world heritage site.

And those who still have enough energy and are looking to shape up and improve their posture can participate in daily Pilates sessions, which take place at every morning in the stunning studio at The Palace guesthouse.

For further information visit capeactive.com.