Blazing saddles across Slovenia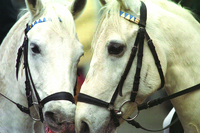 Blaze a trail through Slovenia's glorious alpine countryside on a world-famous Lipizzaner horse, which originated in this central-European country.

Situated on a picturesque plateau overlooking the valley of the Soca River in the north west of Slovenia with the Julian Alps acting as a magnificent backdrop, Pristava Lepena, a holiday village built in the traditional style of the region, offers an idyllic natural setting in which to ride Lipizzaner horses.

Novices who have no riding experience are given the chance to get acquainted with the horses and learn about their character and habits, as well as grooming and saddling practices, and are taught basic riding skills in a calm and reassuring manner. When they are ready they may join a guided trek through surrounding forests and pastures. Friendly ponies are also available for children.

Accommodation is in a group of wooden cottages where the charm of traditional architecture is combined with the comfort of contemporary living. Features include a fireplace in addition to conventional heating, a kitchenette for preparation of warm drinks, a refrigerator/mini-bar, a bathroom with shower and hair dryer, a direct telephone line and, if desired, a TV.

Guests may choose to dine in the restaurant where daily specialities and local delicacies include home-made spirits, lamb on a spit, grilled trout, home-made bread and delicious local desserts.

Prices based on two sharing, including return flights, car hire, seven nights' b&b accommodation and 10 hours of riding lessons or trails, start from £914 per adult and from £718 per child (age six to 12 years) in May. August prices start from £970 and £759 respectively.

For further information, visit justslovenia.co.uk.