Exploring the world of artisan cheese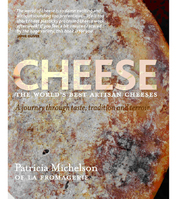 Patricia Michelson, founder of London-based epicurean store and café La Fromagerie, opens the door of her award winning Cheese Room to share her knowledge of the mysterious work of 'affinage' and explore the world of artisan cheese in her new book, Cheese - The World's Best Artisan Cheeses.

By taking us on a geographical and inspirational journey encompassing over 450 cheeses, Patricia discusses the importance of terroir – that magical combination of local terrain, altitude, soil and climate – and how it accounts for the great diversity of flavours and textures in cheese varieties.

Elements such as naturally fed cattle, the influences of the seasons and the specifics of the cheesemaking process all work together to produce delicious cheeses with varying personalities and nuances.

Patricia explains why provenance is key and details the journey from farm to La Fromagerie.

Patricia's global journey takes in a vast array of artisan cheeses and producers from 18 countries, including the Savoie in France, home to Beaufort Chalet d'Alpage, via the British Nottinghamshire, Reggia Emilia hills of Italy and its celebrated Parmigiano Reggiano. Patricia also explores the cheese making revolutions in countries like the USA and Australia.

Learn to appreciate your cheese with details on how to store, cut, taste and serve cheese, and the best drinks and wines to enjoy with this most loved of courses. A collection of over 100 recipes straight from the kitchens of La Fromagerie, provide inspiration on cooking with cheeses featured in the book. The beautiful and inspiring photography used throughout helps to identify and tantalises the tastebuds. Patricia's enthusiasm for cheese and incredible knowledge are universally admired and hugely infectious: never before has cheese been so wholeheartedly celebrated.

Patricia Michelson started her London based cheese rooms, epicurean store and café, La Fromagerie in 1991 from her garden shed with just one cheese. This led to a hugely enjoyable journey in which she has explored and learnt about the tastes and styles of hundreds of cheeses worldwide.

La Fromagerie was voted Best Specialist Food Shop 2005 by Observer Food Monthly magazine, and her second shop in Marylebone has a café within the shop where cheese and wine feature heavily.

Patricia supplies many top restaurants and other shops with artisan farmhouse cheeses, and her advice is often sought for information about cheese and wine pairings by prestigious food and wine publications and wine companies.

For more information, visit lafromagerie.co.uk.

Cheese by Patricia Michelson is published by Jacqui Small, available from 29th April 2010 in hardback at £30.