M&Z takes Renault Kerax Tipper for Midland Quarry Products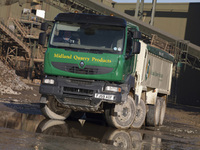 M&Z Beeby Haulage Ltd. has taken delivery of a Renault Kerax 410 DXi, with sleeper cab and a 16-speed gearbox, through Renault Trucks distributor, RH Commercial Vehicles. The truck has been fitted with an alloy insulated tipper body with an electric easy sheet and replaces a Scania on the company's 14-strong fleet.
The Renault Kerax is on contract to aggregate and asphalt product suppliers, Midland Quarry Products and will work at the company's largest quarry in Cliffe Hill, Leicestershire, which produces 600,000 tonnes of asphalt materials per year.
Mike Beeby, Owner, M&Z Beeby Haulage, says: "The Renault Kerax is a top of the range vehicle and, in my opinion, the best in the quarry. It is a hardwearing, tough truck that works hardin the difficult quarry environment. We have a few Renault trucks on the fleet already, which have proved to be reliable and we have developed a good working relationship with the dealer. We are looking to replace our remaining Scanias to move towards an all Renault fleet in the future and we have a Renault Premium and two Renault Kerax on order at the moment."
M&Z Beeby is an independent, family business, established over 42 years ago by owner Mike Beeby. The company is based in Loughborough.