Hôtel De La Paix voted best in Cambodia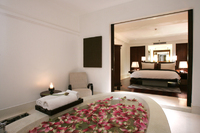 Readers of influential US travel magazine Travel + Leisure have voted stylish Siem Reap boutique property Hôtel de la Paix the best in Cambodia in the latest 'T+L 500' annual list of the world's top hotels.

Based on based on readers' ratings across a range of criteria, Hôtel de la Paix achieved an overall score of 88.68 – comfortably the best in Cambodia and 33rd in the entire Asia region, ahead of countless competitors from prominent international luxury brands.

The new T+L 500 list, published in the January 2010 issue of Travel + Leisure, is based on the results of the magazine's 2009 readers' survey, in which readers rate hotels in several categories including rooms/facilities; location; service; restaurants/food; and value.

In the 2010 T+L 500 guide Travel + Leisure editors noted Hôtel de la Paix's marriage of traditional Khmer and Art Deco design influences and its innovative Arts Lounge gallery and restaurant. T+L editors also recommend that readers book into a Courtyard Garden suite - complete with outdoor tub - and reserve a swinging dining bed at the hotel's signature Meric restaurant.

The full T+L 500 list can be found in the January 2010 issue of Travel + Leisure, or online at travelandleisure.com/tl500.

For further information on Hôtel de la Paix, visit hoteldelapaixangkor.com.