BMW X5 named luxury used car of the decade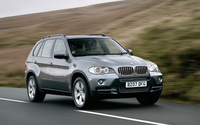 The BMW X5 has been named by CAP as the luxury used car of the decade. The residual value and whole life costs experts praised the X5 for setting a new benchmark and taking the 4x4 from the field and putting it on the motorway, but most of all making it feel like it has always belonged there. It was the effortless usability, faultless build quality and strong influence on the marketplace that wooed the judges.
Mike Hind, CAP Communications Manager, said: "For the used car buyer who does need a workhorse, with towing power and room for the whole family's holiday load, the 2000 – 2006 BMW X5 provides it. But it also offers the opportunity to leave the green wellingtons and the horse box at home and enjoy driving as a pleasure in itself."
Since its inception in 2000 the BMW X5 has been a popular choice with British car buyers, selling 65,353 since its launch. The first model to feature BMW's acclaimed xDrive four-wheel-drive system, the X5 has inspired other BMWs as well as created a new class of vehicle that has since been emulated by many other manufacturers.