Performance tuning for new MINI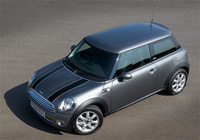 New MINI owners interested in boosting the power of their MINI engine can now approach their local XPart New MINI specialist for an Autologic performance tune. The tunes are available for R50, R52 and R53 vehicle types and deliver significantly increased power and torque, as well as facilitating smoother power delivery, sharper throttle response and faster acceleration. In Diesel MINIs, Autologic performance tuning also offers improved fuel efficiency. Owners can locate their nearest XPart New MINI AutoService centre by using the dealer locator at xpart.com.
"By using high quality electronic tuning equipment, our New MINI specialists can successfully modify the manufacturer's engine tune data to optimise engine performance, providing an enhanced driving experience for the owner," comments Barry Smith, UK sales manager, XPart. "Autologic performance tuning of a MINI One increases power output by 30 bhp at 3750 rpm, with torque increases of up to 26 lb/ft at 6000 rpm, giving the car Cooper-like performance."
XPart's New MINI specialists conduct a rigorous diagnostic check of the vehicle before reinstalling a more refined version of the car's computer programming using the Autologic diagnostic kit. The tuning process typically takes less than half an hour, and can often be completed while the owner waits. No physical changes to the vehicle are visible*, and the tuned MINI is in full compliance with UK emissions laws.
"We look forward to offering performance tuning in addition to our established high quality, affordable New MINI servicing and repair," concludes Smith.
For further information or to locate your nearest XPart New MINI AutoService centre, visit xpart.com.
*The only exception to this statement is the BMW MINI Cooper S – two performance tunes are available for this model, the first diagnostic only, while the second has been optimised for a smaller supercharger pulley.