Attenborough for the day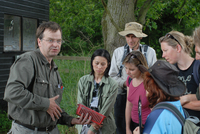 Ever wondered what it is like to be a wildlife conservation biologist? If you want to find out, but don't want to train for a few years to become a zoologist, then Biosphere Expeditions taster days in the Broads and New Forest National Parks may just be the thing for you.

Taster days are just what they say they are: days that will give you a unique insight into what it's like to be in the field with Biosphere Expeditions assisting scientists with wildlife research and conservation. You'll discover expedition and wildlife research and conservation skills such as working with a map, GPS and compass, collecting important animal data, reading animal tracks and signs, using telemetry equipment and wildlife camera traps. You will also learn about the National or State Park you are in, its fauna and flora, history and the conservation work going on inside.

The 'Taster Days' are being held in The New Forest on 20 June and the Norfolk Broads on 4 & 11 July.

For those who take a liking to the Attenboroughesque lifestyle, Biosphere Expeditions then have full-blown conservation expeditions all over the world too.

The cost is £65 per person; £50 will be credited to anyone who subsequently books to join an expedition.

For more information visit biosphere-expeditions.org/tasters-uk.