Butter yourself in Turkish delight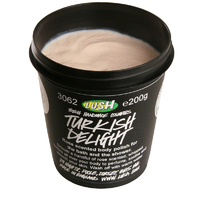 Rose is such a beautiful ingredient, rich in history and natural goodness. According to Eastern tradition rose came from the Great Garden of Persia and Cleopatra used them to seduce Anthony.

Not surprising really when you consider roses are the emblem of Venus – the Roman goddess of love and purity and are known to have aphrodisiac qualities that are also soothing to the emotions and lifting to the heart.

Helen Ambrosen, Lush's Arts & Science Coordinator, comments "some would say that rose oil is the Queen of essential oils – it has an intoxicating and indulgent fragrance, which has been an ancient symbol of love and innocence for years."

In celebration of this beautiful ingredient Lush has launched Turkish Delight (£15.00), a smoothie shower soap inspired by Turkish Baths. Butter yourself all over with this creamy cocoa butter based soap and be embraced in a bouquet of delicate rose and jasmine foam. Turkish Delight contains both rose absolute and rose oil – in fact there's 20,000 petals in every pot - along with some rose water, so is a fantastic tonic for the skin, especially for those with dry, irritated or mature skins. Rose can have an astringent effect on the capillaries, reducing redness and improving their general appearance. Blended with almond oil and cocoa butter, this shower soap will intensely moisturise and hydrate the skin, at the same time as leaving it cleansed and subtly fragranced.

The people at Lush love using rose in their products, in fact they use over 260,000,000 roses each year, dried or fresh, absolute or oil (that's 60 red roses a day). Lush currently use around 400kg of Rose Absolute per year, at a cost of around £1000 per kilo and 20 kilos of Rose Otto per year at a cost of over £3000 per kilo. The product is used it for its beautiful fragrance and for its excellent moisturising and hydrating effect on the skin, making it good for all skin types but especially perfect for rough, aging and irritated skins.

Mark Constantine, Lush Co-Founder and head perfumer, likes to use rose a lot when developing fragrance: "I probably use rose more than any other oil when developing perfumes, as it always improves the fragrance. It doesn't predominate, but always adds a certain quality. It reminds me of a firework – it's an array of sparks falling out from a centre and it creates something fantastic."

Rose personifies innocence for him: "When girls smell rose it creates a wholesome impression, it reminds them of their childhood, they feel reassured and cosseted – almost wrapped in cotton wool. It's not sexy because it's so reassuring, it's chaste ... there's nothing dangerous, alcoholic or drug ridden about rose! Rose is as safe as a strawberry milkshake – it's basically Audrey Hepburn."

The company's main supplier is a family run business called Sebat, who are based in a small village in South West Turkey called Senir, where the rose fields are nestled in the valleys.

Each year, around May, Romany Gypsies descend on the area to help pick the flowers. They have to start at dawn before the sun gets too strong and evaporates the oil from the flowers. When the flowers are picked they are sent to the local factories where around one ton of flowers will produce just one kilogram of absolute and over a million roses are needed to produce just 1 kilogram of rose oil.

Sebat are a third generation run rose supplier, who employ a large proportion of the village and take in the Romany Gypsies during harvest time – so there's a real sense of family and camaraderie, which is why Sebat wanted to open a primary school in the area. Children in Turkey usually start school at seven, however a recent scheme has seen the Government introduce pilot nurseries throughout the country and Sebat wanted to offer this to their community. With help from Lush they have been able to open a school - Lush pay an extra €25 per kilo for rose oil which goes towards this project – which has allowed over 60 children in the area education free of charge. The school, which opened in June 2009, is open to all the children in the village, including the Gypsy children if they want to go and is the first free school in Turkey.

Turkish Delight body polish is available in Lush shops nationwide from 1st February 2010. Order online at lush.co.uk.