New Scorpion Alfa Romeo 147 GTA exhaust system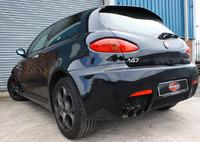 Respected exhaust manufacturer Scorpion Exhausts has created a superb new system for the Alfa Romeo 147 GTA 3.2 V6. The system has been designed in partnership with tuning specialists Yates and Bloomfield, to their exacting requirements. After years of trialling and development in Europe, the system has finally come to the UK.
The Italian super-saloon is already a bit of a weapon, but the addition of the new Scorpion system increases both BHP and torque throughout the rev range. Hand fabricated in aerospace grade T304 stainless steel, the new pipework is 2.5" in diameter and precision mandrel bent to ensure no loss of pipe diameter whilst retaining optimum gas-flow. The resultants gains have been yet to be dyno proven, but during development the exhaust has consistently shown significant improvements in response during road and track testing.
The Scorpion system leaves the front factory catalyst in place for full legality, conformity and ease of fitment, but thereafter significantly de-restricts the system thanks to a free flowing back box and tailpipe. The second catalyst is bypassed for better flow, thanks to a trick de-cat section that can easily be returned to standard if needed. The sound retains the gorgeous Alfa rasp and howl that made owners fall in love with the car in the first place, but without being intrusive or overly loud on motorway journeys. Italian cars are all about aesthetics, so much care was taken over the tailpipes, with twin 76mm STW stainless finishers being used.
The system is the first of many Alfa fitments that Yates and Bloomfield have asked Scorpion to develop over the course of the coming months. All will come with Scorpion's class-leading lifetime warranty and ease of fitment. Please visit yatesandbloomfield.co.uk for details of this system and all forthcoming designs.