Success smells sweet at MG Hotels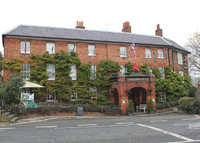 MG Hotels Group is launching a new conference service for corporate users at both its prestigious riverside hotels – The Red Lion at Henley-on-Thames, Oxfordshire, and The Manor, at Datchet, near Windsor.

Both hotels are old buildings with character and history, in wonderful locations on the river Thames, with décor and ambience which respects their heritage yet reflects today's taste for an eclectic mix of old and new.

Managing Director Mandip Gill explains: "We have taken a flexible approach to putting together conferences for corporate clients and can tailor them to suit any company's individual requirements. Uniquely, we also offer our own specially-created room scents in the conference rooms which can change throughout the day to stimulate delegates' creativity and input. For example, our citrus scents both calm and energise participants during morning sessions and again during the immediate post-lunch period. This helps to ensure maximum attention and participation from attendees. These organic aromas are almost imperceptible in use and feedback from clients so far has been very positive. Another option is our special 'energy food' menu based only fresh and light ingredients such as fruit and fish, which is carefully balanced to provide ideal nutrition released throughout the day. We can also incorporate additional team-building activities such as golf, rowing, mini-treasure hunts and bike rides in the local area and around the river Thames."

The MG Hotels Group has invested time, research and effort looking at the needs of businesses organising a conference and has come up with its own approach: a complete contrast to the sometimes bland and de-personalised offerings which characterise many conference packages from rival hotel brands. MG Hotels' conference service is flexible and tailored - every corporate client has an experienced, named member of the conference and banqueting team who will work with them to put together a bespoke programme.

The Red Lion at Henley on Thames has five conference rooms, including a new screening room. The Isis Room, Thamesis Room and Riverside Room all overlook the Thames and can be opened up to provide one large area, complete with a private bar area, for up to 130 delegates. As individual rooms however, each retains its own character: one is beautifully panelled in light wood, another has a period fireplace, another the atmosphere of a private club with its built-in bookcases. The Regatta Room in the same wing of the historic hotel has space for up to 110 delegates and access to a courtyard with views of Henley's oldest building, the Chantry House.

For a restful night's sleep, there are 39 bedrooms, all individually furnished and with ensuite bathrooms. Several rooms in the very oldest part of the building have beamed ceilings and large four-poster beds. Most rooms also have wonderful views over the River Thames and Henley Bridge. The Red Lion Hotel is situated in close proximity to the town's boutiques, picturesque pubs and riverside walks, yet minutes from the glorious Oxfordshire countryside.

The Manor at Datchet, near Windsor, is a 4-star boutique hotel with five fully air-conditioned conferences suites catering for up to 175 delegates. Specialist menus are available, including ethnic, Asian and Caribbean cuisine, created by an experienced team of top chefs. The hotel has recently opened its own exercise room, with state of the art gym equipment, and a spa centre will be opened shortly, offering aromatherapy and a range of massages. Again, conference organisers can choose to add on team-building events and outings, which are arranged on their behalf by MG Hotels' team of conference staff.

Adds Mandip: "We have already hosted conferences for several large banks and companies in the pharmaceutical, telecommunications and automotive sectors. We are close enough to London and major transport links to be easily accessible, yet both The Red Lion and The Manor feel a world away from the stress and bustle of city life. We provide a personalised programme for each and every booking and assured discretion: no notices in the hotel foyer announcing the name of the company, no simultaneous booking of companies in the same industry. For top-level conferences it's even possible to book the entire hotel."

For conference booking information, email events@redlionhenley.co.uk.